Despite what the recent #WinterStormStella would have you think, spring is finally here!  To celebrate the beginning of the season on the Party Rental Ltd. blog, we collaborated with our friend and long-time client Michael Grim at The Bridgehampton Florist to capture a quintessentially-Hamptons spring look at the beautiful Bridgehampton Inn.  Michael's lilac-and-aqua design was originally set on the Elsa Aqua Print linen but in a moment of creativity, we reset it on the Pinstripe and Aqua Print — giving a fresh take on an otherwise identical design — and really showing the impact a linen can have on a look.  Beautiful lilac blooms paired with the aqua and white cloths, floral-inspired chinaware, and lilac accents made for a picture-perfect setting.  And when asked about the inspiration for the lilac-colored candies, Michael says, "I believe there should always be sugar on the table." (We tend to agree!)
We interviewed Michael to learn more about his background and vision for this shoot. Take a look!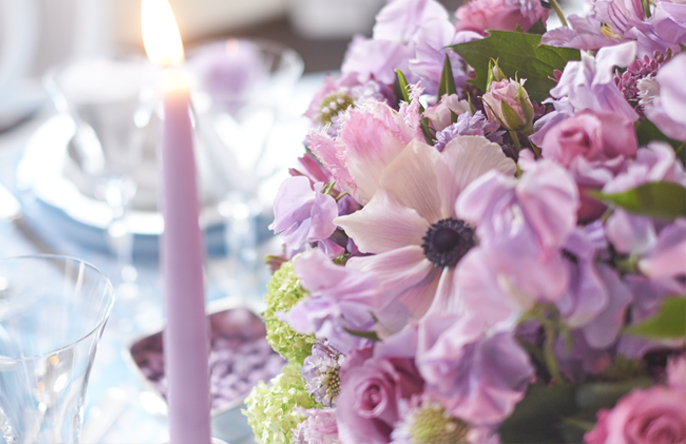 Tell us a little about yourself and what you do in the industry.
My Partner Jim Osburn and I have been in business at The Bridgehampton Florist for 31 years. As we no longer focus on large events, our business has grown to a larger interior weekly flower service, which means we now do more smaller events at our clients' homes for 20 to 80. We also cater to some of the wonderful inns here in the Hamptons. Many of them have rooms for private parties.  We come in and do wonderful tablescapes and flowers to make these private parties truly memorable.  We like to create a very cozy at home atmosphere — and there's no clean up!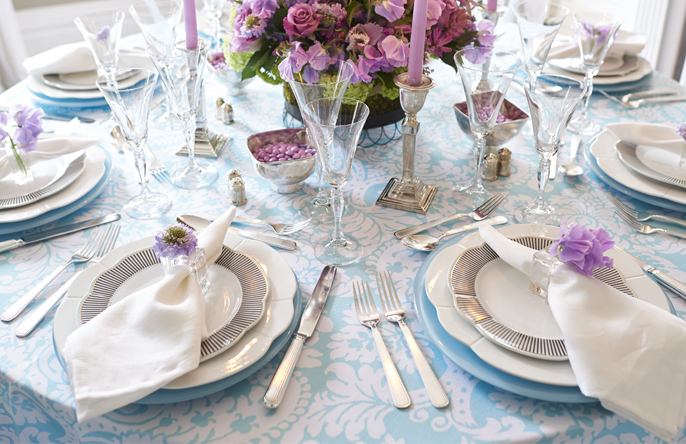 How long have we worked together?
We have worked with Party Rental Ltd. for over 25 years. It's been a party!
(Hippo Note:  It sure has been!)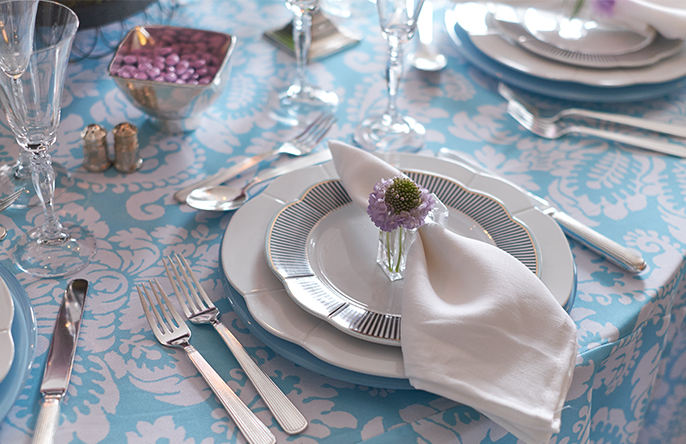 What's your favorite product? Linen?
It's hard to choose a favorite product. There are so many great items: chairs, stemware, flatware like the new Vanderbilt Gold — the first gold flatware I actually like!  And Linens! So many to choose from! From Black and White Houndstooth to Bali Cobalt Blue to the over-the-top new Gold Sequin Print.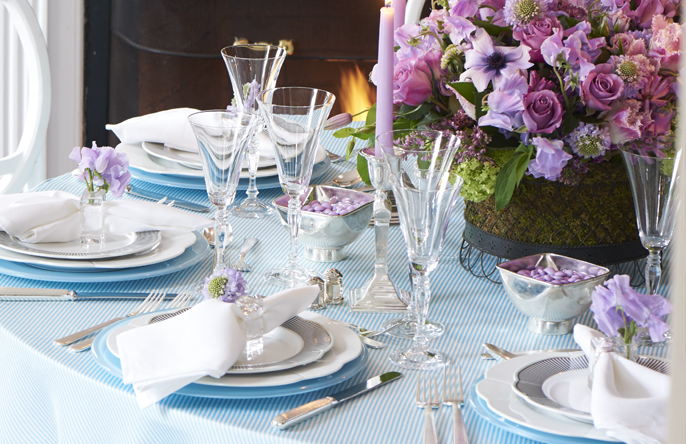 What looks, colors, or styles do you tend to work with the most and why?
Classic looks are pretty much the "Hamptons look," whether the setting is traditional or modern. We tend to use a lot of white, natural hemp colors, and blues, natural wood — whether chairs or country tables. We favor white plates, as we feel food looks best against a white or cream background.  The annual Hamptons Classic lets us use bold, bright colors and products I don't necessarily get to use any other time of the year. We have done some really fun tables at the Classic with Party Rental products.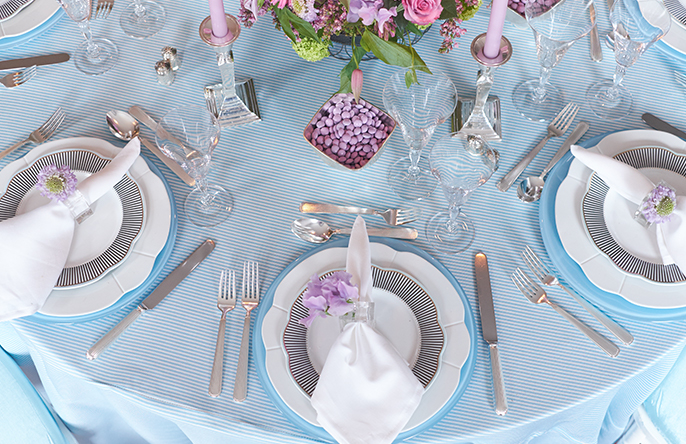 Describe the looks you designed and tell us about your inspiration.
We knew we wanted to do a spring look, so I chose the Elsa Aqua tablecloth for a burst of spring color. In spring, I love lilac (both the color and flower), so I went with that and a mixture of lilac-colored flowers: tulips, hyacinths, clematis, sweet peas, scabiosa, roses all in a wire basket lined in fresh green moss. We also used Party Rental Silver Bowls filled with lilac colored candies, silver candlesticks with a lilac colored candles, and lilac flowers in the napkin ring. That way, we pulled the color throughout the table. I chose a white chair, as it complements the white molding of The Bridgehampton Inn, all to bring a home-like feeling.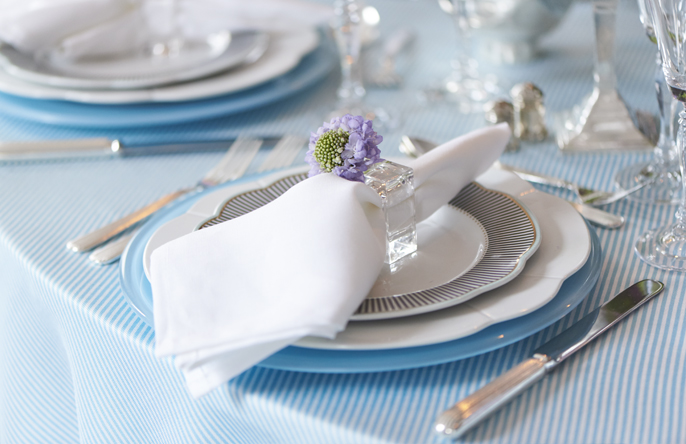 Thank you so much to Michael for being a wonderful partner on this fabulous shoot, and thank you to the Bridgehampton Inn for allowing us to photograph in your beautiful space!  Cheers to spring!
Get the look! Party Rental Ltd. products featured:
Elsa Aqua Blue Print, Pinstripe Aqua Blue and White Print, Sky Blue Glass Charger 12", Whisper White Plate 11.5", Whisper Bloom Cocktail Plate 8.75", Carnegie Hill flatware, Dyana glassware, White Irish Linen Dinner Napkin, Bowl Silver Square 4", Candleholder Silver 10"