For the past 25 years, Colin Cowie has used his meticulous eye for detail and style to create the ultimate guest experience through events, planning parties for royalty, celebrities, businesses, and more. His passion for style has expanded into various book, television, lifestyle, and hospitality projects, and his business – Colin Cowie Lifestyle – has become synonymous with style.
Colin joined us in our New York City Design Studio to collaborate on three unique looks inspired by different bride personalities, share his philosophy on design, talk trends, and even let us in on his favorite NYC venue for our Clients that Inspire blog series. Take a look!
Describe the three looks you designed and the inspiration behind them.
This first table is for the girly-girl, summer bride who is young, confident, and know exactly who she is and what she wants. She wants a design that's rustic and chic, yet still speaks to her feminine side.  The look is whimsical and not extravagant at all, using only about two dozen roses on the table, loose and in bud vases, with candlelight.
Candles, to me, are the most important tool in my tool kit, because they create instant ambiance at a very minimal price. I could probably count on one hand how many dinners I've had in my entire life where I didn't have candlelight — I light ten to fifteen candles every night!  The more candles the merrier – I like mixing pillars, votives, tall candles with different candlesticks and candleholders, using a variety of height and texture to tell the story.
This second table is for the bride who is more grounded, more earthy, and strong.  She wants a design that appeals to a more masculine side.  Everything on the table feels organic in nature, combining elements like the dark wooden table with sage napkins, and beautiful greens, including cacti and thistles. It's romantic, it has texture.
There's something particularly modern about using the stemless glasses with the smoke water glasses.  I always like to call out water glasses because they act a sort of punctuation and a way to anchor each place setting.
This third bride is sultry, and sexy who wants a fall-to-winter design that's as romantic as she is.  She's confident, maybe works for a hedge fund, is very comfortable in four-inch heels. She is bold, brave, and likes things her way.  The black chairs add that element of sexiness, and the floating candles reflect off the shadow boxes for added ambiance.  The Velveteen gives just the right amount of texture, but the overall feel is subtle and effortless. Often, people try to add as many flowers as they can to a centerpiece, but it's far more chic to have a few, perfectly curated pieces.  For this look, less is more.
I love to use a printed menu at a banquet dinner. An informed guest is a happy guest, and they always like to know if they should save room for dessert!
What colors or styles do you like to work with most and why?
People always ask me, "What's the trend?" and the trend is great style. There's always going to be a rustic bride, a princess bride, a grand bride, and a whimsical bride.  Trends come in terms of new chairs or colors, but at the heart, we want great style designed in a way that tells a client's unique story.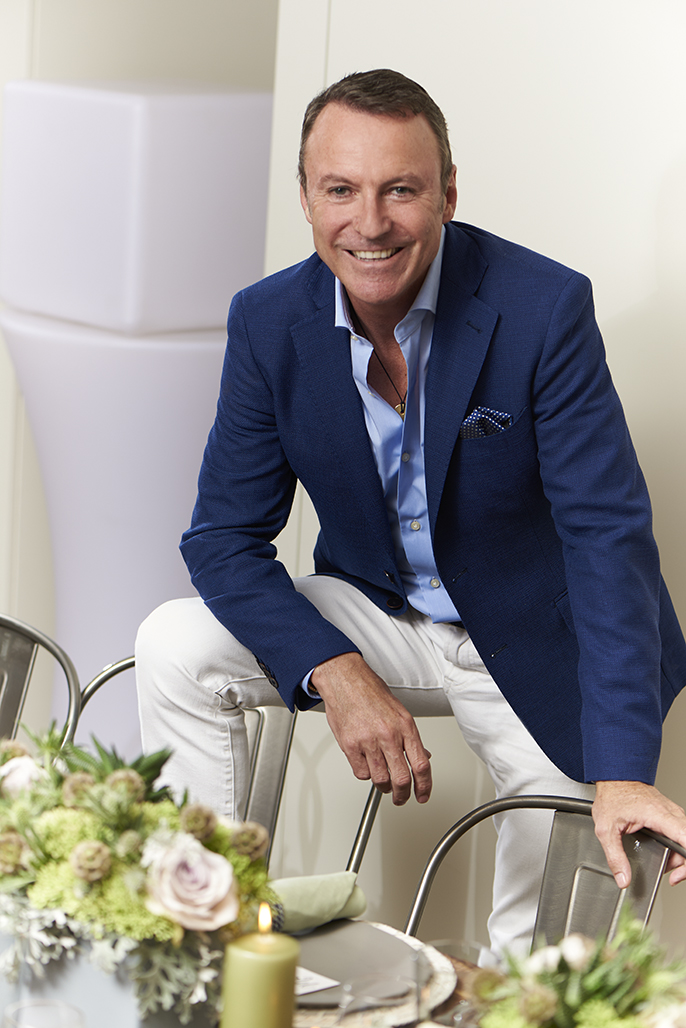 What are your favorite linen patterns and textures?
I love taking a textured table like the Country Table and doing an overlay — either over the whole table or as a runner —  in a sheer chiffon that puddles to the ground.  I love the juxtaposition between raw and refined. Sometimes we snake the fabric down the center — often down a mirrored or lacquered tabletop — for a sultry feel, almost like lingerie.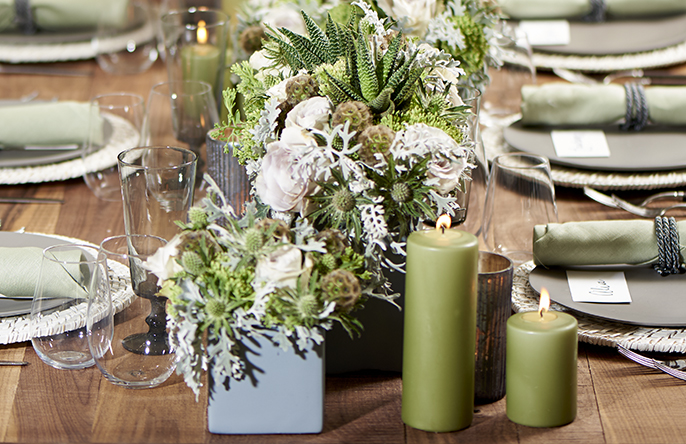 What is your favorite flower?
My favorite flowers are lily-of-the-valley — they're the most beautiful, delicate, exquisite, romantic flower there is.  I also love those dark burgundy peonies and burgundy-black miniature calla lilies.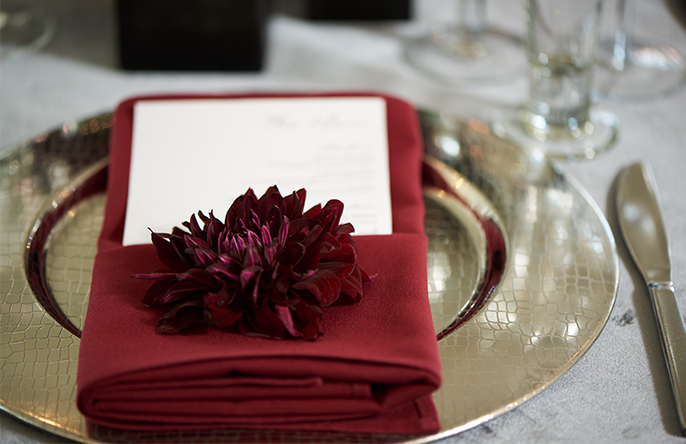 What do you like about working with Party Rental Ltd.?
I like working with Party Rental Ltd. because of your selection — you have something for any color, texture, and style to tell any story or match any personality.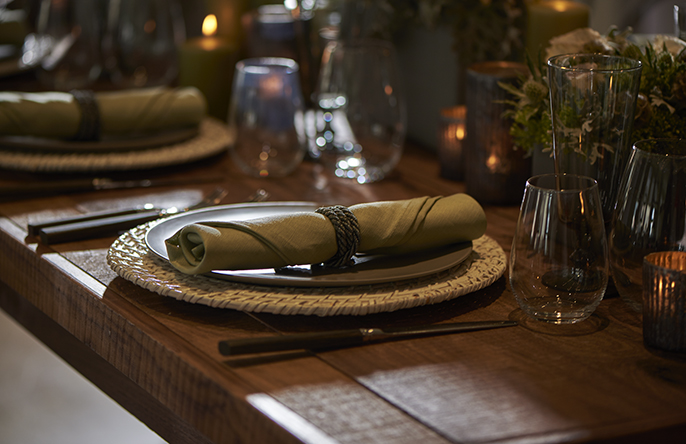 What do you like most about visiting our Design Studio?
It's one thing to see the products on the website, but it's even better to be able to touch the products and physically put them together in the Design Studio.  It's also a great resource when we are telling the rest of an event's story through elements like food stations and bars.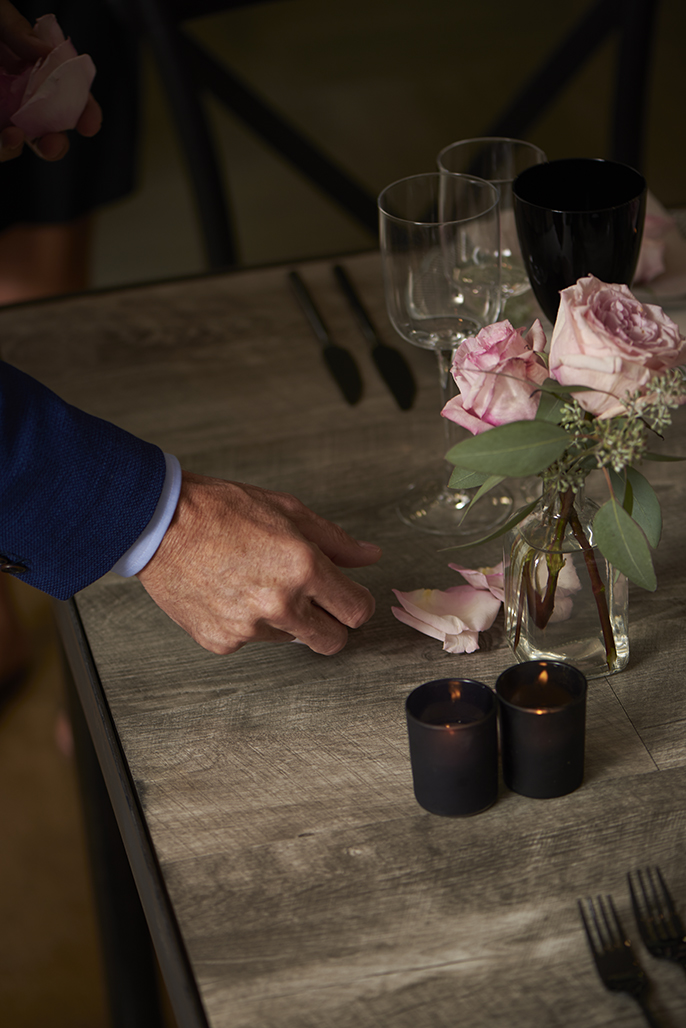 What is your design philosophy?
I feel the best way to express yourself and your sense of personal style is in how you entertain, and that comes from how you set a beautiful table. When I meet new people, they often ask where I'd like to go out to eat, but I always prefer to go to their house for a bottle of wine, to see their space and how they entertain.  That's really where you get a sense of who someone is.
Real style is all about ruthless editing. We can plan and have all the "ingredients" for a design, but once I see the design in the space, I move and edit and tweak until I find the look, often right up until the last moment.  There's always room to improve!  This makes each design feel more organic, since it was tailored custom to its environment. I always challenge my team and leave time to finesse, and it makes all the difference. Sometimes it's more about taking pieces away to enhance a design, rather than adding pieces.  It's important to allow the table to breathe.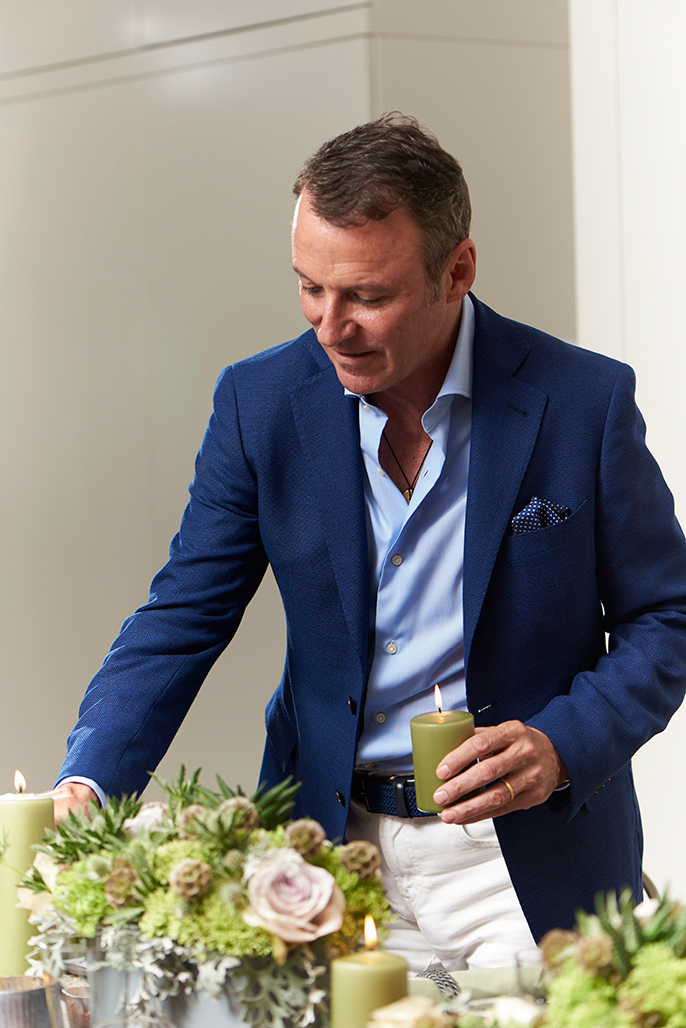 Most importantly, regardless of the budget, dream and dream big, because once you've dreamt big, you have a vision that will help you make every creative decision.  Then you can tell the story through the senses and create "wow" moments that mesmerize your guests. If you start with small ideas, you end with small results, so always dream big.
And lastly — we have to know — what's your favorite New York City venue?
(laughs) Right here! The Party Rental Design Studio.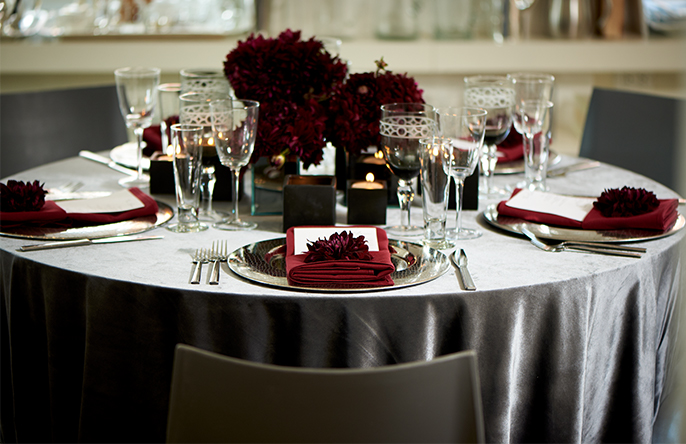 Thank you to Colin and his team for partnering with us on an awesome collaboration and three gorgeous looks. Be sure to check out Colin's latest venture Wilkieblog.com for more inspiration, tips, and exclusive content for the millennial bride.
Get the look! Party Rental Ltd. products featured in this collaboration:
First Look: Loft Dining Table with Distressed Grey Table Insert 8'x42″, Whisper Bloom Charger 11.5″, Vanderbilt Black flatware, Madison Red Wine/Water Glass 12oz, Madison White Wine Glass 9.5oz, Black Goblet 12oz, Cross Back Chair Black, Cushion Cotton Heather, Votive Holder Roly Poly Pink Frosted Second Look: Country Dining Table 8'x42″, Market Bistro Chair Grey Metal, White Rattan Charger 12.5″, Aster Matte Grey Dinner 10.75″, Sedona Wood Flatware, Mercer Stemless Red Wine 22oz, Mercer Stemless White Wine 13oz, Smoke Pandora Tinted Glassware 12oz, Sage Irish Linen Dinner Napkin Third Look: Charcoal Velveteen, Bellini Chair Black, Snakeskin Metal Charger 13″, Lexington Flatware, Cypress Smoked Goblet Tinted Glassware 15.5oz, Elan Water/Red Wine Glass 12oz, Soho Flute Glass 5.5oz, Bordeaux Shantung Dinner Napkin