Event designer David Beahm uses lavish floral and his eye for whimsical design to produce events all over the world through his company, David Beahm Experiences, for celebrities, socialites, Fortune 500 companies, and more.  We invited David to our New York City Design Studio to collaborate with us as part of our Clients that Inspire series, excited to see how he'd put his signature touch on the pieces in our Studio.  Equipped with buckets of the fluffiest dahlias freshly picked from his Thistle Dew Farm,  David created his designs with his dahlias as the foundation, swapping out a few key elements of each look to create the next. The result? Five gorgeous looks, each uniquely their own.  Check out David's creations and his thoughts on flowers, design, and the famous David Beahm napkin fold.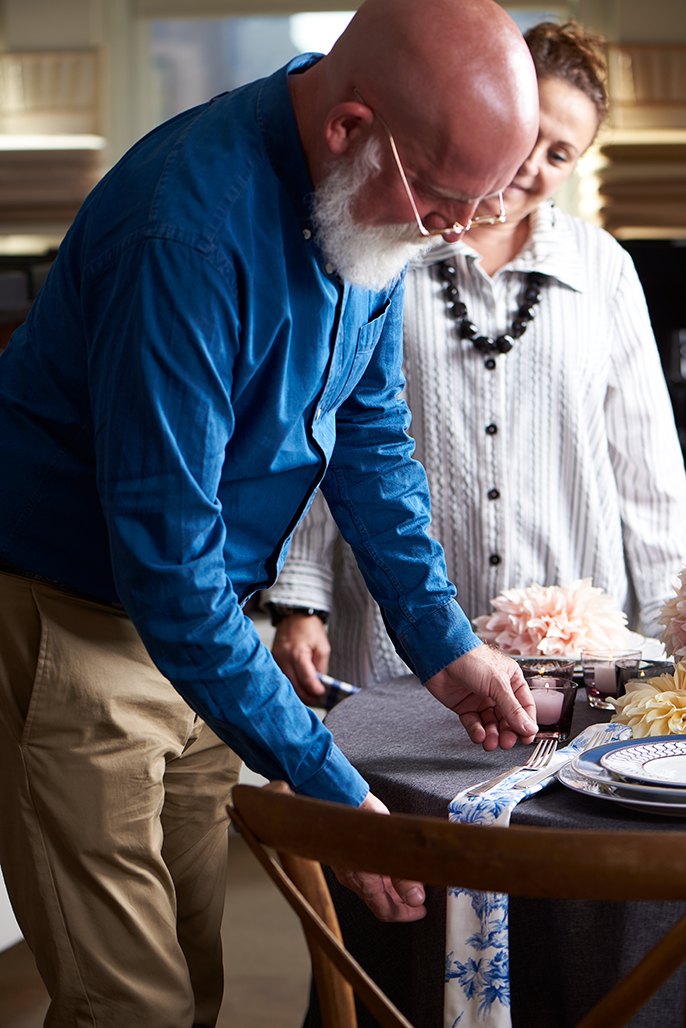 Thanks for collaborating with us!  Please describe the looks you designed and the inspiration behind them.
I wanted to take one flower and with it, show the versatility of the Party Rental tableware. You can set many moods with tableware and have the flowers work with it.
Out of the five you designed, do you have a favorite?
I enjoyed the blue setting with the gingham napkin. There's a lot of pattern going on. Pattern on pattern really catches the eye.
Are there any colors, styles, patterns, or textures that you or your clients have been gravitating towards lately?
I don't like to answer that, because then it limits who calls us!
What are your favorite flowers? Which flowers do you enjoy growing?
I enjoy, of course, dahlias because of their size, and the fact that they bridge the style gap between formal and informal – they fit very well in either setting. The same with tulips. They have form with some formality and informality, so I really like how these flowers can live in both worlds. I grow them both at my farm, Thistle Dew Farm in Buck's County Pennsylvania.
Let's talk about the David Beahm napkin fold! Could you describe it and why you like to use it?
I like it because it creates another line on the table to catch the eye. I think it's important to always think about how the eye moves in a room and moves on the table. So by creating another colored stripe on the edges of the table, it just gives more movement and isn't quite as static as just having a napkin plainly sitting on the table.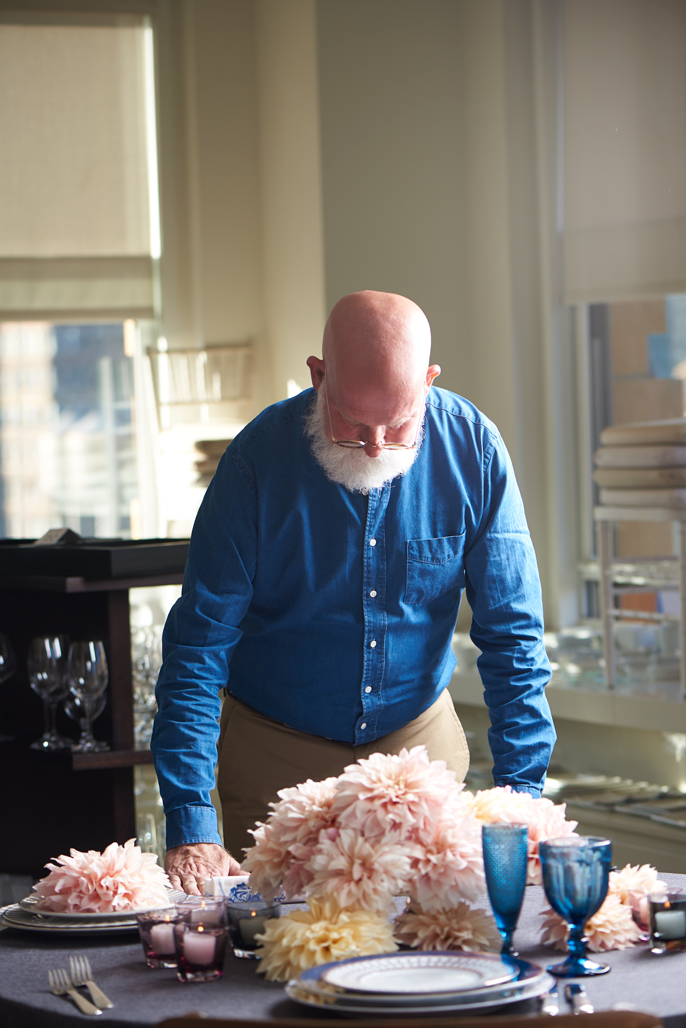 What do you like about working with us?
The versatility and the selection. We have very discerning clients who go to many events during the week, so it is very important to never give the same look twice. And so, using the tableware and different sized tables, it helps service our clients as they should be.
Do you have a favorite Party Rental product?
I love the Fleur china. It can bridge styles – informal to formal – and it's something different…though chefs don't love displaying their food on it, so you have to be careful where you use it. We have to respect each others' work, so if I want to use this plate, I always check with the chef first.
What do you like about visiting our Design Studio?
I think, as a former teacher, I know that you can get more information from touching or seeing than just listening or looking online. Online is convenient, but you actually get to feel the weight of the flatware, see the quality of the glassware, and see the actual tint on the chinaware. It's really important.
What is your design philosophy?
We are given two ears and one mouth, so I like to listen twice as much as I speak. I believe it is my job to tell my clients' story while standing back and guiding the big picture – and to direct the end result while still being a team player.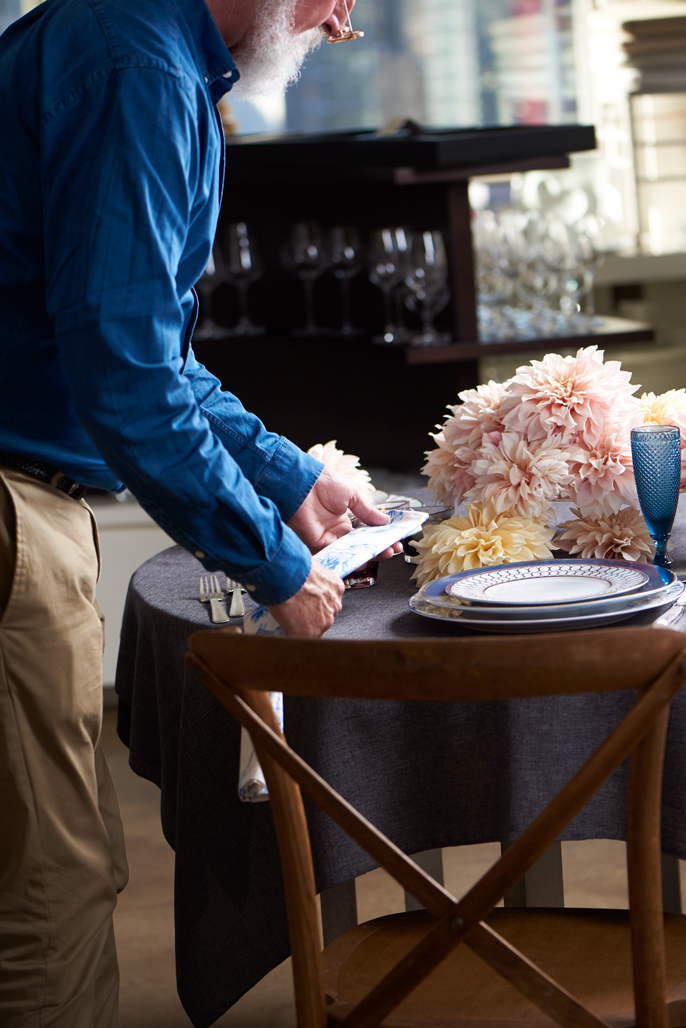 Thank you to David and his team for being part of this awesome collaboration!
Get this look!  Party Rental Ltd. products featured:
Look 1:  Charcoal Nu Weave, Mink Burst Charger 13.25″, Anastasia Charger 12.25″, Anastasia Dinner 10.75″, Anastasia Lunch 9″, Sedona Wood flatware, Pink Regency Goblet Tinted Glassware 9oz, Pink Regency Flute Tinted Glassware 4oz, Black Cotton Dinner Napkin, Votive Glass Tri-Sided Amethyst, Votive Glass Tri-Sided Smoke
Look 2:  Charcoal Nu Weave, Morgan Charger 12.25″, Morgan Dinner 10.75″, Morgan Lunch 9″, Vanderbilt Gold flatware,Pink Regency Goblet Tinted Glassware 9oz, Pink Regency Flute Tinted Glassware 4oz, New Pink Cotton Dinner Napkin, Votive Glass Tri-Sided Amethyst, Votive Glass Tri-Sided Smoke
Look 3:  Charcoal Nu Weave,Morgan Charger 12.25″, Morgan Dinner 10.75″, Morgan Lunch 9″,Vanderbilt Gold flatware,Pink Regency Goblet Tinted Glassware 9oz, Pink Regency Flute Tinted Glassware 4oz,,Pink Regency Goblet Tinted Glassware 9oz, Pink Regency Flute Tinted Glassware 4oz,New Pink Cotton Dinner Napkin,Votive Glass Tri-Sided Amethyst, Votive Glass Tri-Sided Smoke
Look 4:  Charcoal Nu Weave, Maeve Blue and White Charger 12″, State Plate w/ Gold Border Navy 11.25″, Baldwin Lunch 9″, Carnegie Hill flatware, Sapphire Sussex Goblet Tinted Glassware 12oz, Sapphire Regency Flute Tinted Glassware 4oz, Blue Etoile Dinner Napkin, Votive Holder Glass Round Regency Clear
Look 5:  Charcoal Nu Weave,Maeve Blue and White Charger 12″,State Plate w/ Gold Border Navy 11.25″,Baldwin Lunch 9″,Carnegie Hill flatware,Sapphire Sussex Goblet Tinted Glassware 12oz, Sapphire Regency Flute Tinted Glassware 4oz, Blue and White Check Dinner Napkin,Votive Holder Glass Round Regency Clear