Event producer Frank Alexander is known for his ability to transform any environment into something extraordinary, so when the opportunity to have him collaborate with us in our New York City Design Studio appeared, of course we had to make it happen! With his full-service event design firm, Frank Alexander NYC, Frank creates stunning events for clients both corporate and private and anywhere from Mexico to England to Turkey and beyond. We were thrilled to bring his expertise and absolutely stunning floral into the Design Studio to create a fresh fall look as part of our Clients that Inspire blog series. Check it out!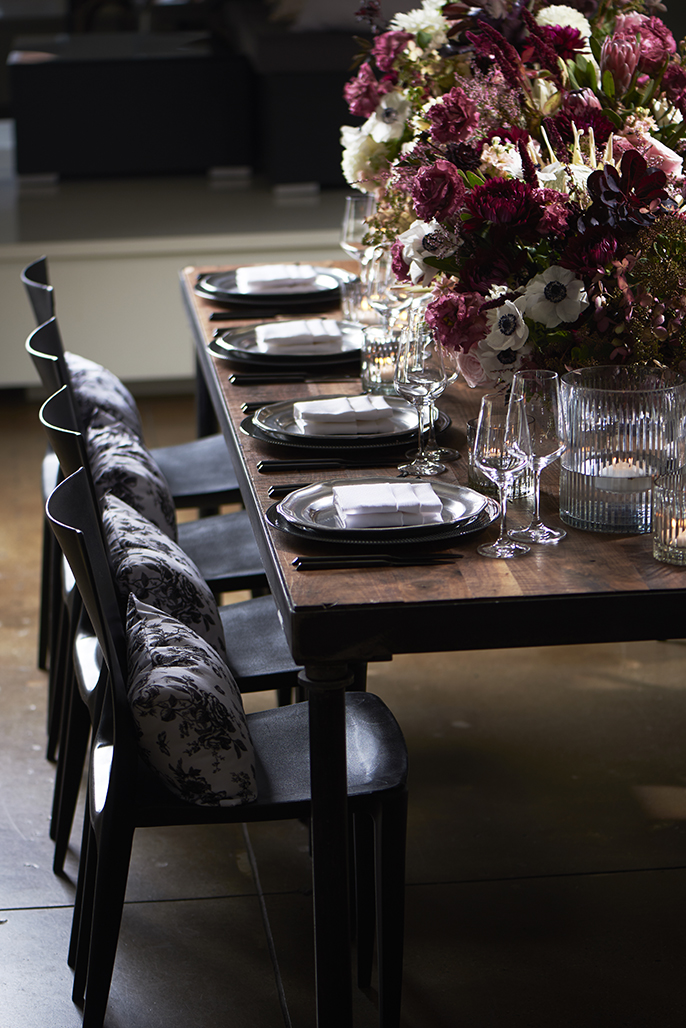 We're so excited to collaborate with you on this look! What was your design inspiration?
I wanted to try something new and give a fresh take on fall design. I used lots of seasonal flowers to give the feeling of abundance without using a traditional fall color palette. The centerpiece incorporates a mix of both locally-sourced and foreign flowers, arranged so there's a sense of movement that draws your eye. The large candles at either end of the table are a nod to classic three-wick candles, just done in a new way.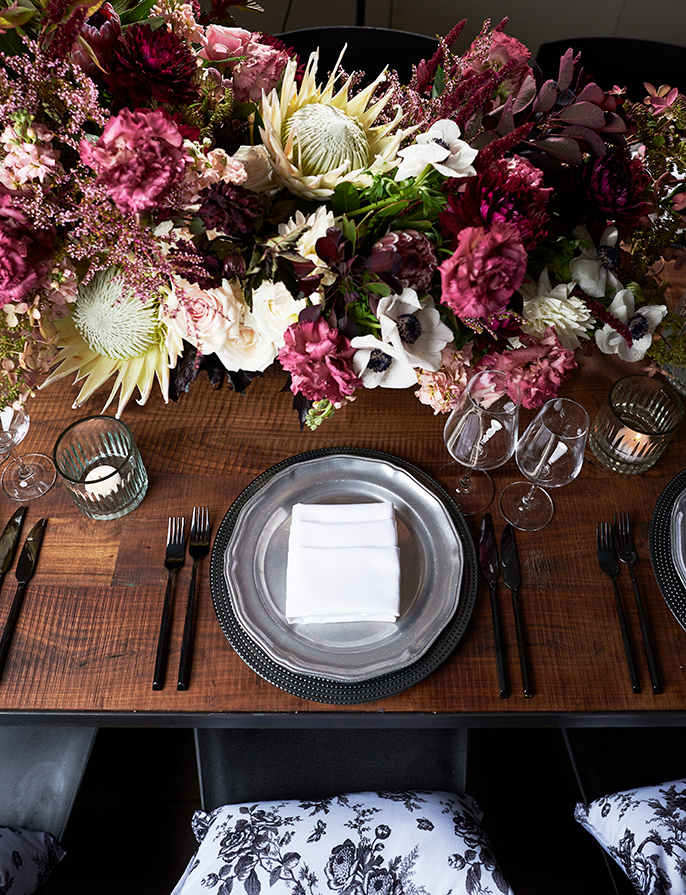 Black is featured predominantly in design right now, so I wanted to incorporate some bold, graphite-hued elements into the design through the Black Bellini Chairs, Jardin Noir Print pillows, and Black Vanderbilt flatware – which is my favorite product in the design. I took an interior designer's approach to this design by taking a product I haven't used in a while, like the Pewter Queen Anne Charger, and mixing it with some of your newer pieces like the Noma Charger. It gives a fresh take on a classic piece. The combination of metals and rich wood, through the Walnut Loft Table, gives a city-meets-country feel perfect for fall. I really wanted to show how you can reach a balance between all the different styles, from elegant to modern to classic.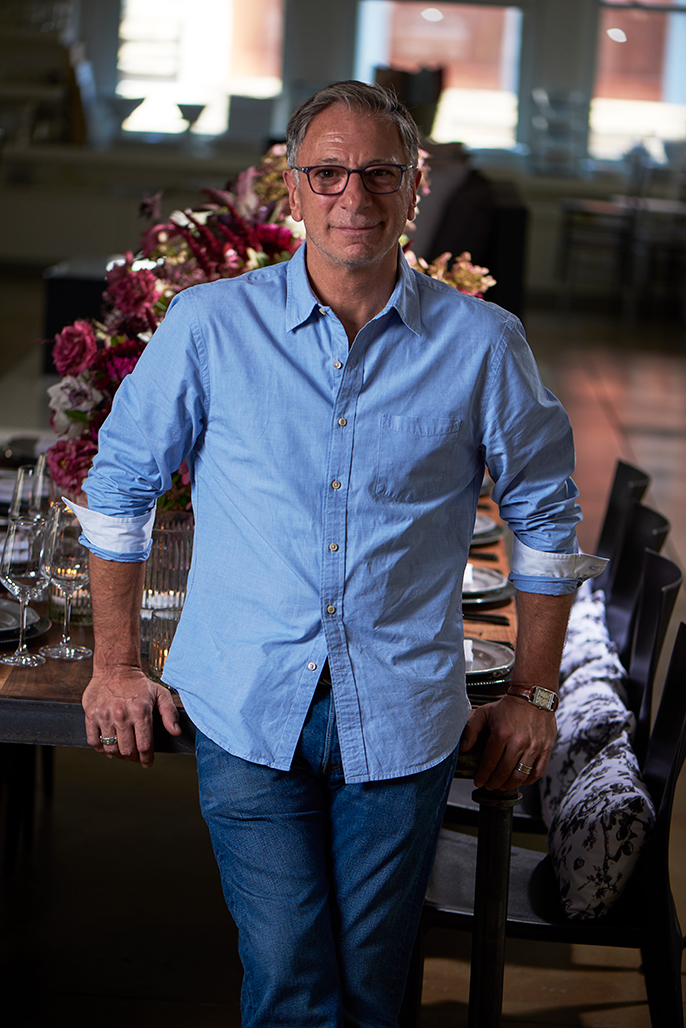 What textures and fabrics have you or your clients been drawn towards?
I love linens that are textured with a subtle sheen. The big, showstopping sparkle can have its place as an accent piece, but our clients are approaching us more often with a sophisticated palate. Mottled patterns are also big right now, reminiscent of some of the popular wallpapers from a few years ago. Elements from interior design often find their way into event design over time.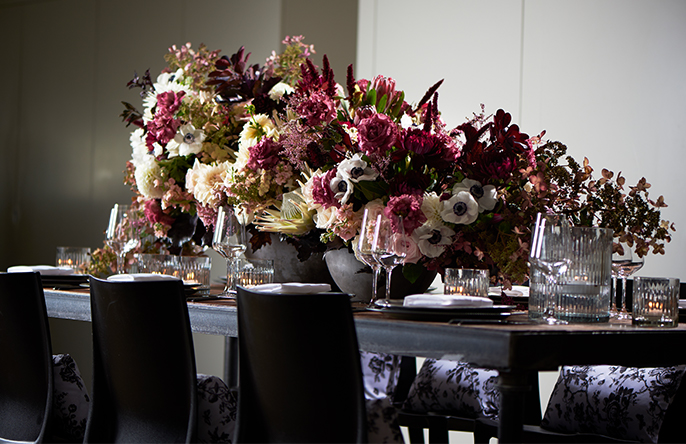 As we move through fall into the winter season, what colors are you seeing in your upcoming designs?
I've been using more rich, bold blues this fall by incorporating different elements like sapphire velvet. Our winter events have cleaner palettes this year than in the past. We're seeing lots of white designs with pops of rich wood tones, select green elements, birch, snow, and either silver or gold accents.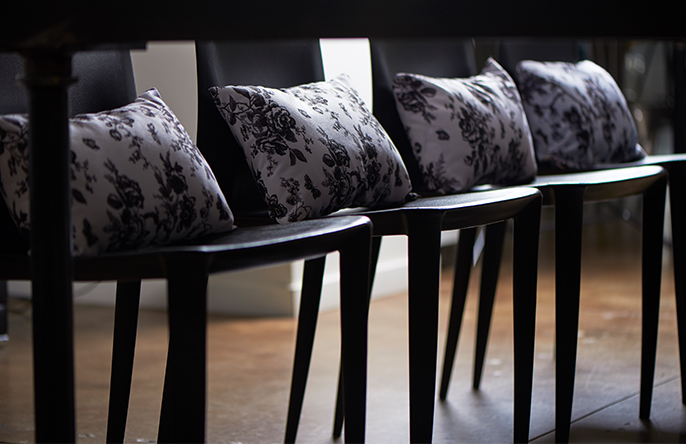 What's your favorite flower?
The King Protea! But my favorites cycle seasonally – who doesn't love peonies for spring, hydrangeas in the summer, or dahlias for fall?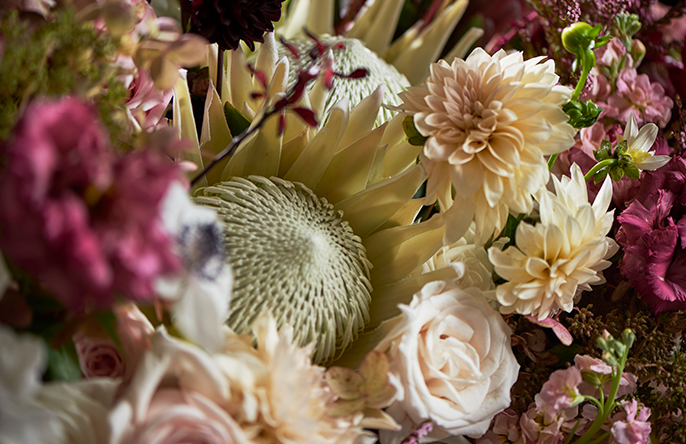 How would you describe your design philosophy?
Give your clients what they want as long as it's tasteful, and change everything else.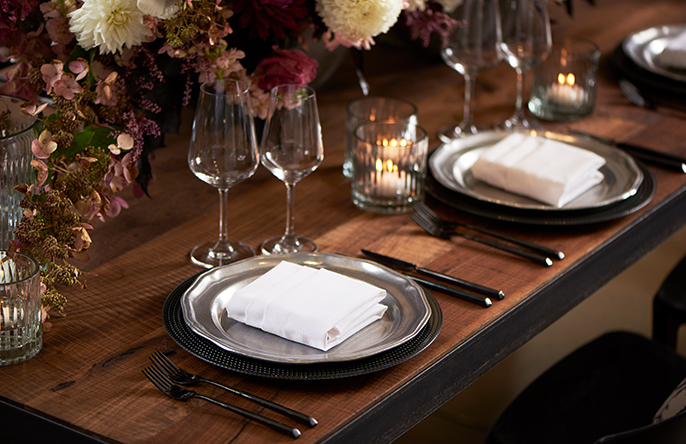 What are your favorite Party Rental Ltd. products at the moment?
The new Gramercy Gold flatware! I love the new black options, especially the Black Vanderbilt. The Noma Green charger that we used in this design is fantastic, and I love always the Smoke Pandora Glass.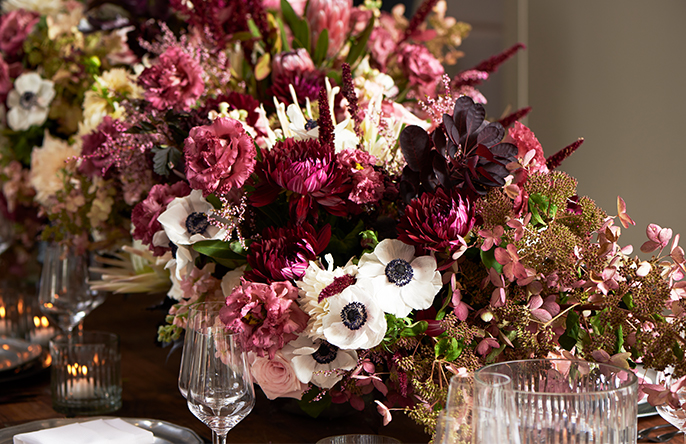 What do you like about visiting the Design Studio?
We look through your website as we plan and place orders, but when we visit the Design Studio, we always find something new or something older that we haven't used in a while. Seeing the products in person makes a difference.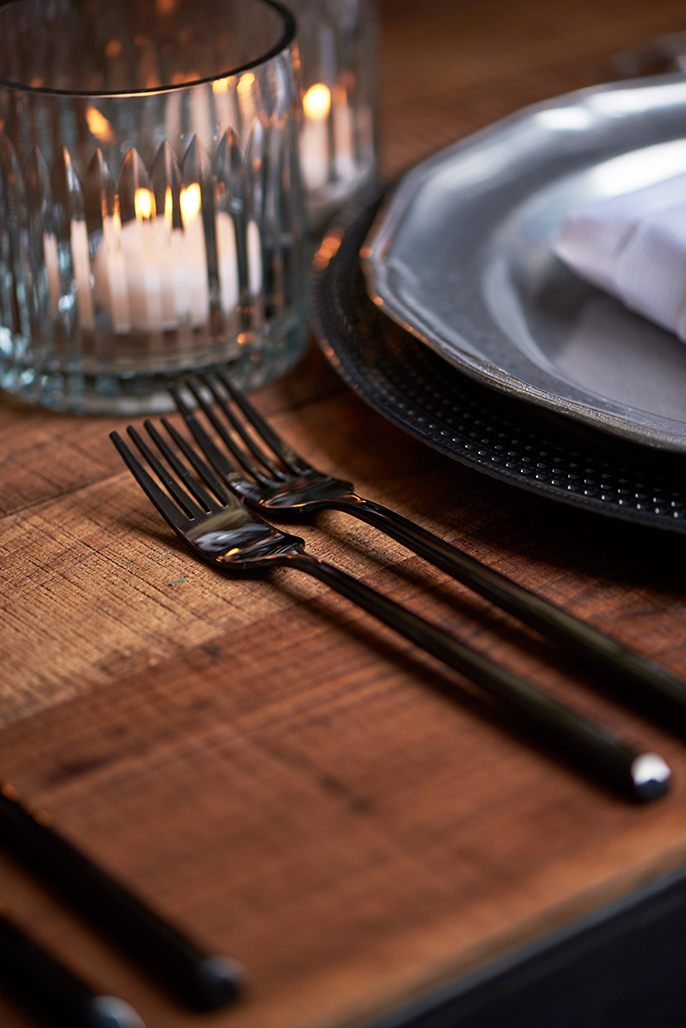 What do you like about working with us?
The key to great events is having a team of vendors and suppliers that you know you can rely on, and I know I can always count on your team to be there at crunch time.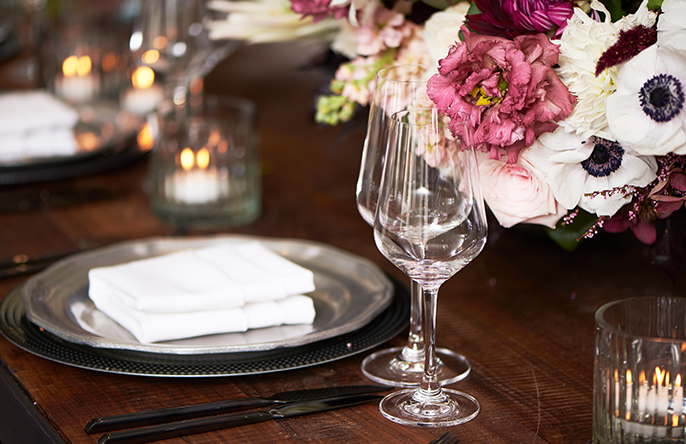 Any last tips you'd like to share?
Keep an open mind, and always trust your designer.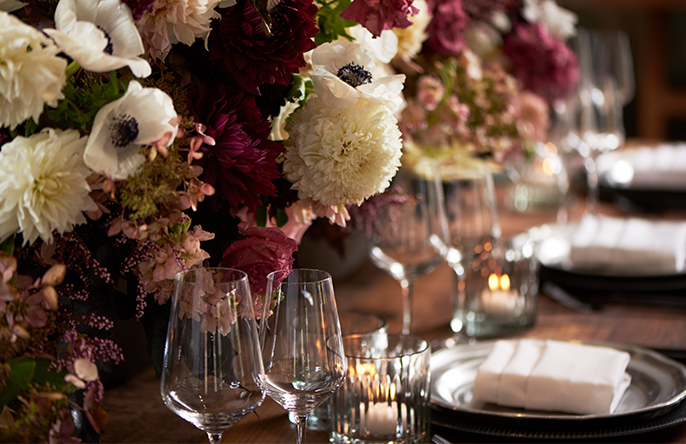 A big thank you to Frank and his team for totally transforming our Design Studio space and partnering with us on this gorgeous collaboration!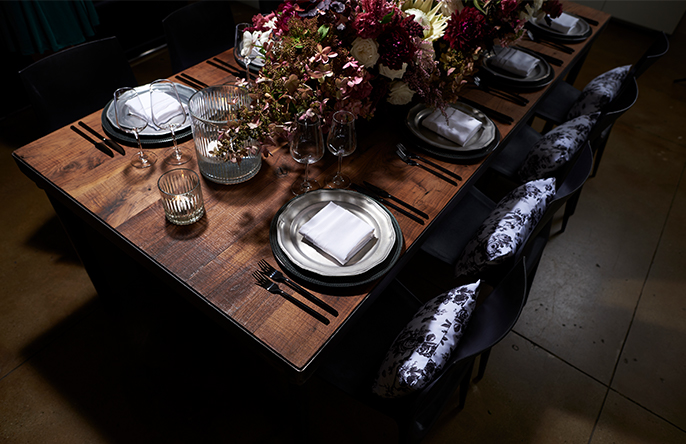 Get this look! Party Rental Ltd. products featured:
Loft Dining Table with Walnut Insert 8'x42", Black Bellini Chair with Jardin Noir Print Chair Pillow 10"x16", Noma Green/Ivory Ombre Glass Charger 13", Pewter 12" Scalloped Queen Anne Charger, Black Vanderbilt flatware, Stockholm Red Wine Crystal Glass 15oz, Stockholm White Wine Crystal Glass 11oz, White Faille Dinner Napkin