When we started working with Matthew Robbins and Luis Otoya of Matthew Robbins Design on our upcoming collaboration shoot, we had discussed a few possible locations.  After tossing around a few ideas, Matthew — an acclaimed New York-based event designer and planner — and Luis — founder of RobbinsOtoya and innovative caterer from Colombia — suggested something we hadn't yet heard: what if we shoot in the warehouse?  The rest is history.
Matthew and Luis staged their looks amongst some of our most beloved products in our New Jersey warehouse.  Towering stacks of neutral and metallic chairs in our Chair Department flanked the elegant French-inspired look.  Since we couldn't fly down to Cartagena to shoot the tropical look on-location (maybe next time!), we created an alcove in our Kitchen Department surrounded by hundreds of our iconic pink glass crates to create a bold, bright backdrop.  The magic was in the details – from the peonies delicately placed on Mint Dishes to mini pineapples wrapped in napkins, to the tropical leaves that decorated the glass crates.  Matthew and Luis combined the raw elements of our warehouse with their refined tabletop vision for a creative photoshoot that showcased the best of both worlds.  Check it out!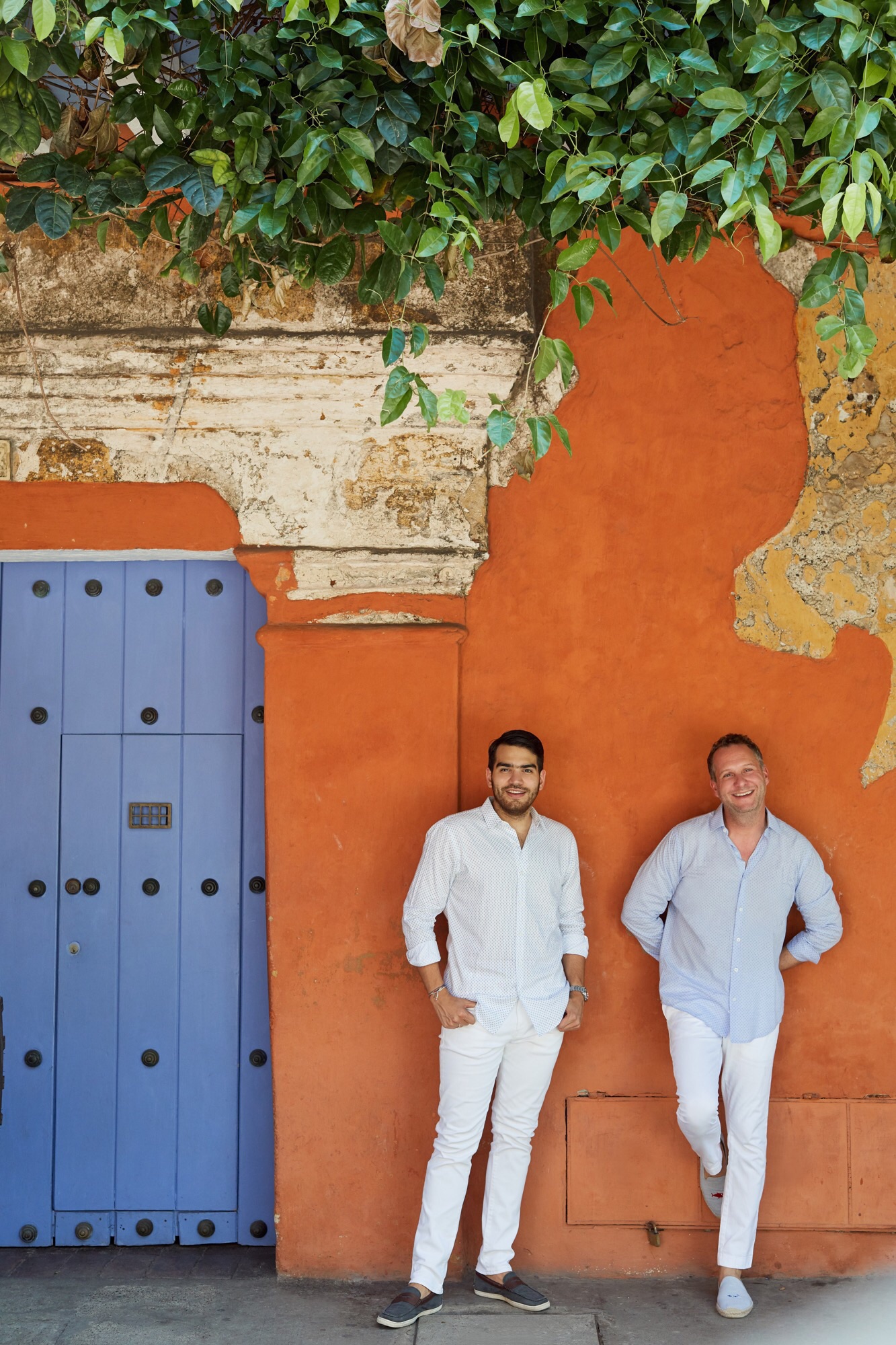 We're so excited to have you collaborate with us in our warehouse!  Could you describe the two looks you designed and the inspiration behind them?
We plan and design many destination weddings and events all over the world. Finding inspiration in the various towns, cities and countries we work in is one of our favorite paths to creating a unique and beautiful design plan. Our travels provide so many ideas for our events.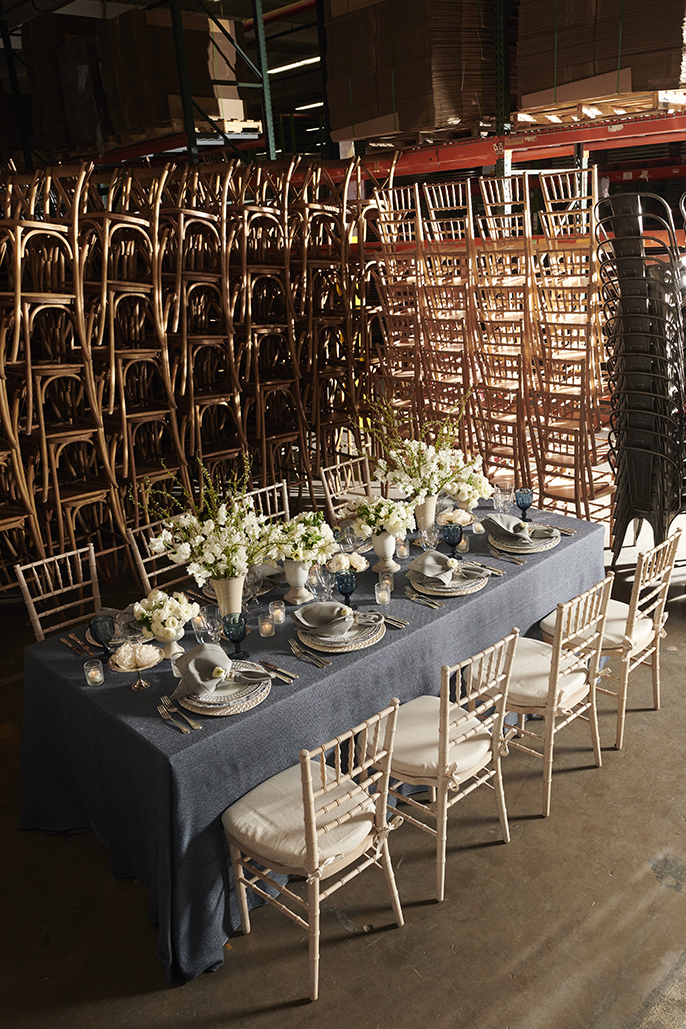 For this project, we really wanted to focus on two of our favorite destinations which includes the South of France and Cartagena, Colombia. We love Provence and the South of France because of the blend of traditional, elegant details with a more casual, welcoming style. Cartagena will always be a favorite as it's our second home and we are always inspired by the old colonial city combined with vibrant, lush tropical design.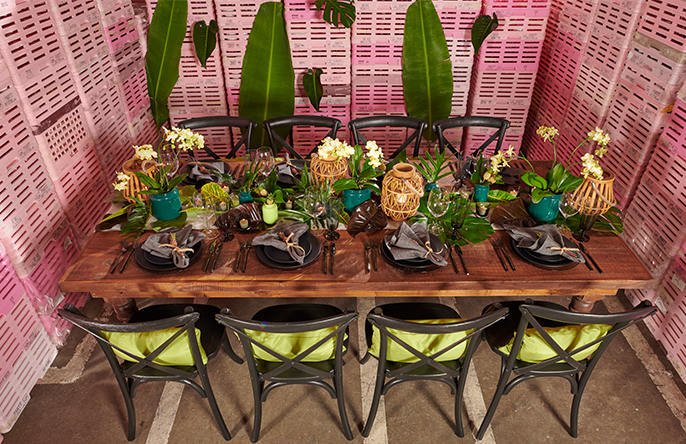 Are there any colors, styles, patterns, or textures that you or your clients have been gravitating towards lately?
We are very excited by mixing tropical style with contemporary but organic details. Woven, natural textures paired with strong, black accents are favorites at the moment. Green will never go out of style which is perfect for our obsession with tropical foliage.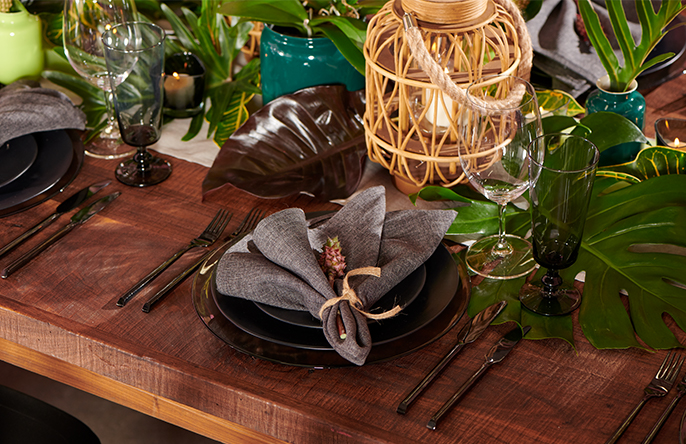 We are seeing lots of blue tones in our designs for 2018 but in unexpected places such as rich, deep blue linens and tableware. Our favorite approach to designing a gorgeous table is to combine textures and tones with an effortless, timeless but unique edge.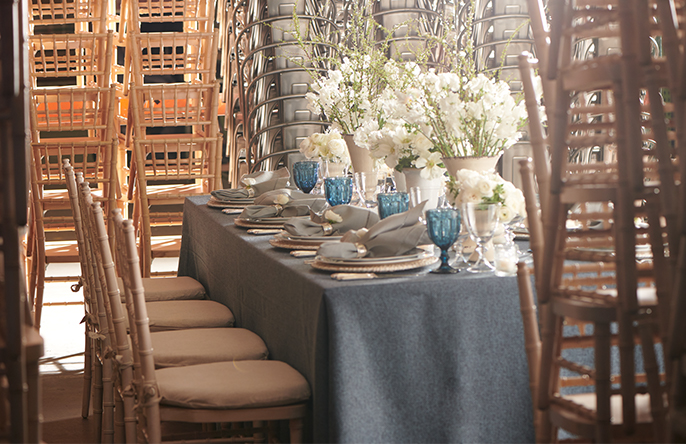 What are your favorite flowers?
It really all depends on the context and the location we but we love sweet peas and we adore tropical foliage and fruits. Flowering vines are also at the top of our list.
Do you have a favorite Party Rental Ltd. product or linen?
We adore the textured linens from the Rattan collection. We also really like the Smoke Pandora goblet, the Matte Aster Grey and Black dinnerware, and the Sedona Wood flatware.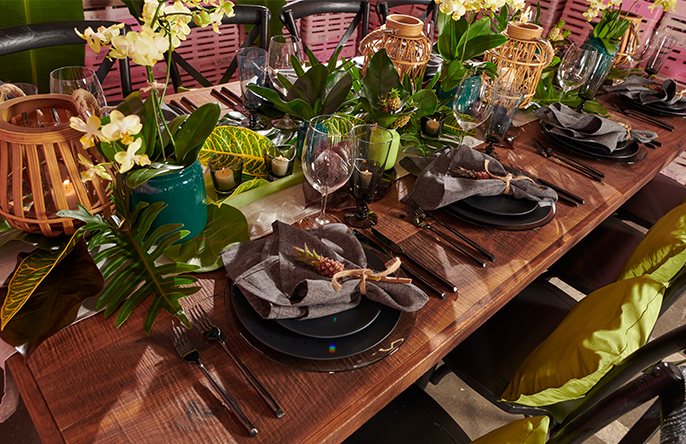 We know you love to travel for work and for fun — do your travels influence your designs?  If so, how?
Our travels always influence our designs. We are currently in Morocco and gathering so many wonderful ideas for future projects. We are especially inspired by unique combinations with unexpected materials and locally made crafts or artisanal items. We always search for new color palette inspiration as color really defines so much when designing an event.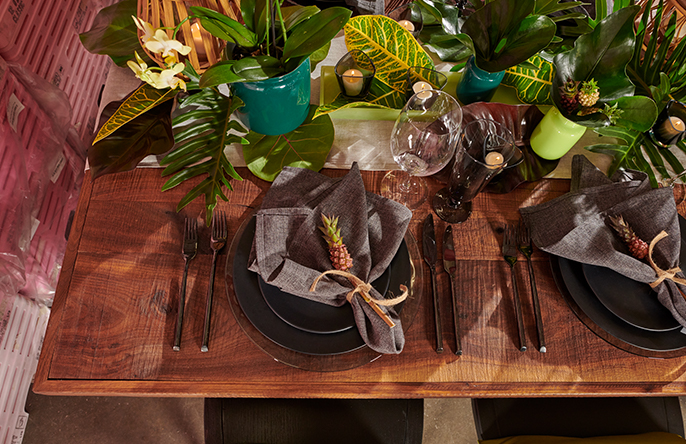 What was something interesting or surprising you learned from visiting our warehouse?
We were surprised by how the linens are stored and moved around for orders. It at first appears to be chaotic but there is definite order to the process and the system. Meeting the sales team and customer service teams in person was really great. It was incredible to see the organization for maintaining the huge inventory in the warehouse.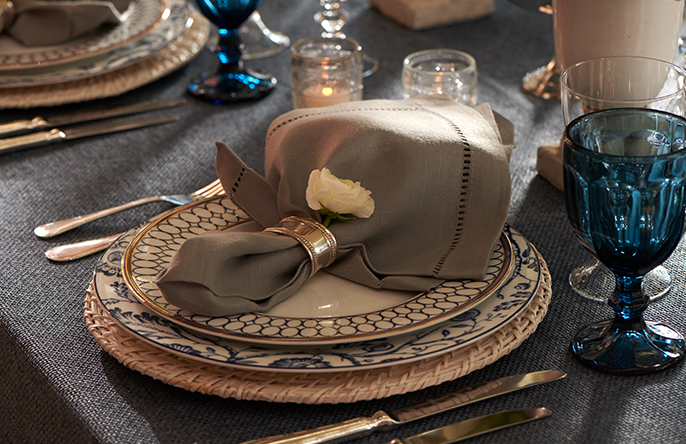 What do you like about working with us?
We love the responsiveness and the willingness to always go the extra mile for our events and our clients. It's also so great to have a wonderful range of products for so many styles and aesthetics under one roof.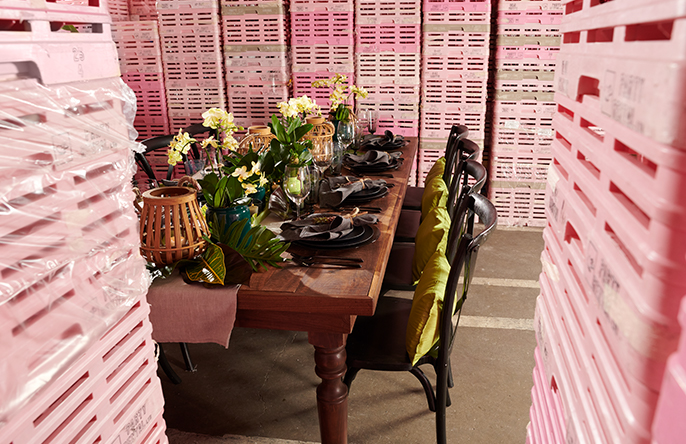 What is your design philosophy?
We believe in good design that is authentic, unique and timeless. Our work is inspired by many things but at the core it is always inspired by our clients. Their stories, experiences and dreams inspire so much of what we do and how we do it. Our favorite designs feel effortless and unfussy which is what we tried to bring to the two designs we created here.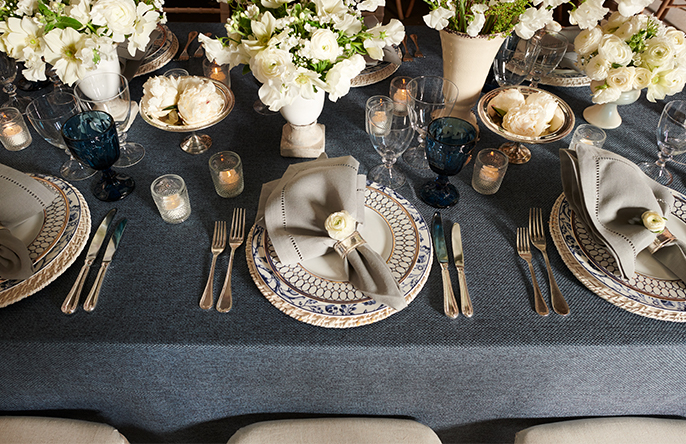 Get the look!  Party Rental Ltd. products featured in the French-inspired design:
Slate Rattan, Distressed Whitewash Reception Chair with Heather Cotton Cushion, White Rattan Charger 12.5″, Maeve Blue and White Charger 12″, Baldwin Lunch 9″, Park Avenue flatware, Berlin Goblet 15oz, Berlin White Wine 12oz, Sapphire Sussex Goblet 12oz, Sea Salt Grey Church Linen Dinner Napkin, Napkin Ring Silver Oval 3/4″, Mint Dish with Pedestal, Clear Regency Votive Holder
Background Chairs: Chestnut Cross Back Chairs, Bone Reception Chair, Grey Market Bistro Chair, Distressed Whitewash Reception Chair
Get the look!  Party Rental Ltd. products featured in the tropical-inspired design:
Country Dining Table 8'x42″, Flaxen Irish Linen Table Runner 108″x14″, Black Cross Back Chair, Grass Shantung Chair Pillow 10″x16″, Smoke Glass Charger 12″, Aster Matte Black Dinner 10.75″, Aster Matte Black Lunch 8″, Vanderbilt Black flatware, Riedel Red Wine Crystal 22oz, Smoke Pandora Tinted Glass 12oz, Charcoal Nu Weave Dinner Napkins, Moss Resin Rectangle Tray 24″x4″x1″, Smoke Tri-Sided Glass Votive