We love to talk design here on the Party Rental Ltd. blog — is there anything more fun than choosing colors, themes, patterns, and textures? — but sometimes, event design comes down to the (slightly less sparkly and exciting) numbers.  Budgets are a crucial part of any event, and whether you're an event pro planning for a client or dreaming up your own big day, budget can certainly factor into your design decisions.  
We believe you should be able to get the look you love regardless of budget, which is why we carry a wide variety of designs at several different price points for many of our product categories.  But with so many options, how do you navigate the choices?  We created a series of infographics for our Chinaware, Glassware, and Flatware options to show you which styles can help you save and which are perfect for you to splurge, so you can DIY your own Crave vs Save and craft your ultimate design.  Looking for more budget friendly pieces? Slide up the line toward "Save".  Looking to go more luxe?  Slide down towards "Splurge".  It's that simple!
Whether you're looking to upgrade elements of your design or get the look you love for less, these infographics will help you pick the perfect pieces for your next event.  Check them out!

Party Rental Ltd. products featured above:
White Rim, Clear Glass Rim, White Coupe, Vanilla, White Rim Gold Border, White Rim Platinum Border, Black Rim,White Coupe Platinum, Ecru Gold Border, Clear Glass Square, Origami Gold Rim, White Rectangular, Glacier,Java Black, Asian Sandstone, White Square Rounded Rim,White Square, Aster Matte Black, Aster Matte Grey, Aster Matte White, Circle Clear Glass, White Square Rounded Rim Gold Border, Yorkshire, Anastasia, Baldwin, Beach Dot, Beach Stripe, Campbell, Confetti Gold, Deco Dot, Devon, Halo, Hampton, Loom Gold, Morgan, Parker, Raja, Whisper White, Diamond Embossed, Elite Rectangle, Elite Square, Medici, Petal, Trevi Gold,  Palais Gold, Trillian, Contempo Coupe, Fleur Azure, Fleur Coral, Fleur Emerald, Fleur Violet

Party Rental Ltd. products featured above:
All Purpose, Round Highball & Rocks,  Bowery, Classic, Bodin Highball & Rocks, Empire, Hudson, Paloma, Premier, Soho, Bell, Flared, Hammered Highball & Rocks, Handblown,  Tinted Glassware, Elan, Berlin, Stockholm Highball, Tumbler, and Rocks, Athens, Eleanor, Madison, Bell Gold Rim, Bell Platinum Rim, Mercer Stemless, Smoke Pandora, Stockholm Crystal Red, White, and Flute, Cypress Amber / Green / Smoked, Regency, Roma, Venice Highball, Black Goblets, White Goblets, Pink Essex, Sapphire Sussex, THE ONE, Riedel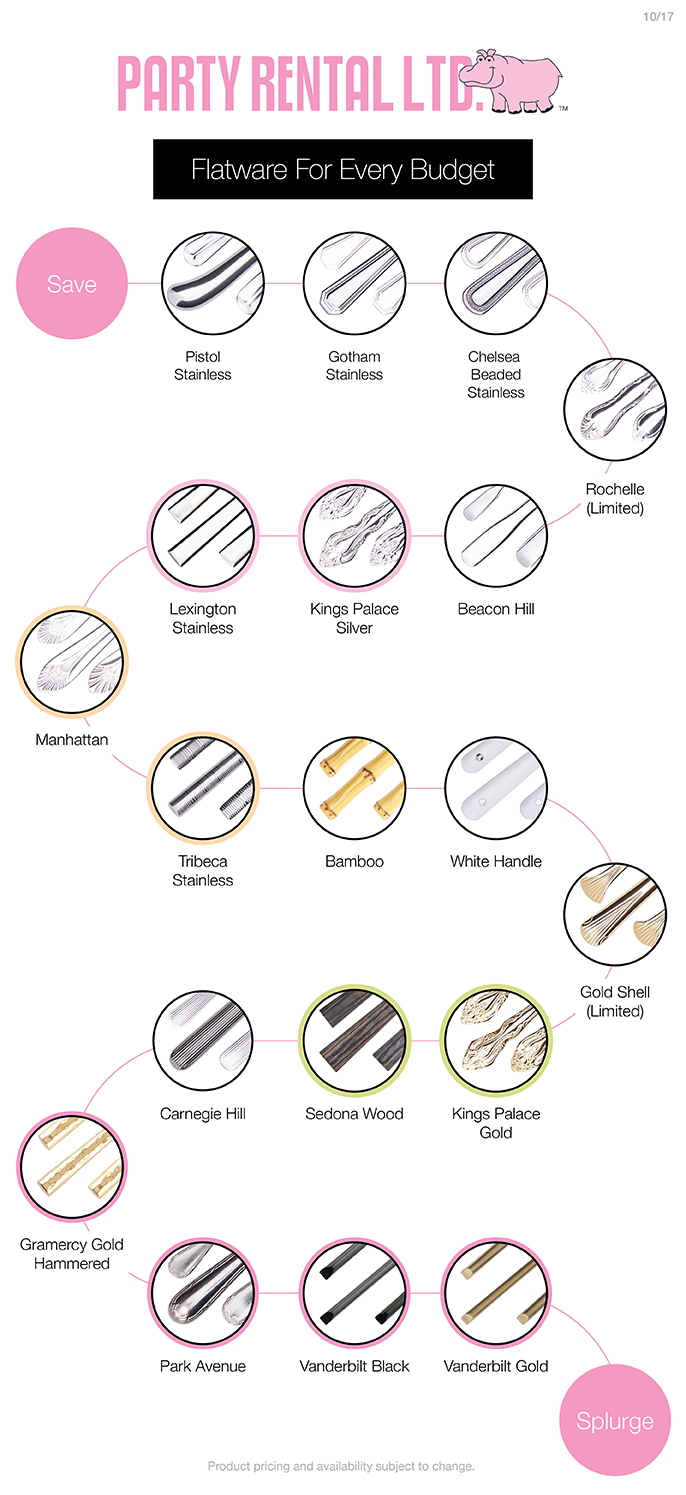 Party Rental Ltd. products featured above:
Pistol Stainless, Gotham Stainless, Chelsea Beaded Stainless, Rochelle, Beacon Hill, Kings Palace Silver, Lexington Stainless, Manhattan, Tribeca Stainless, Bamboo, White Handle, Gold Shell,Kings Palace Gold, Sedona Wood,  Carnegie Hill, Gramercy Gold, Park Avenue, Vanderbilt Black, Vanderbilt Gold