Online ordering is changing the way our clients are managing their rental needs.  We designed our online ordering system so that you can view pricing, create carts, place orders, and make revisions, whenever and wherever your events take you.  Ready to place your first order but not sure where to start?  Here's a closer look at some of the features we've built into our website that help make ordering rentals a breeze.
Quick Pricing Access
We know how fast-paced the event industry can be, so we wanted to give you a quick way to get quotes for the products you love (no waiting involved, really!).  It's as simple as accessing our website — you can now view pricing below each product and in your carts.
To make sure you're seeing the correct pricing for your specific event, be sure to enter your event location & delivery date on the Product page.  Also note that the pricing shown is for a 72-hour rental period and does not include delivery charges or sales tax.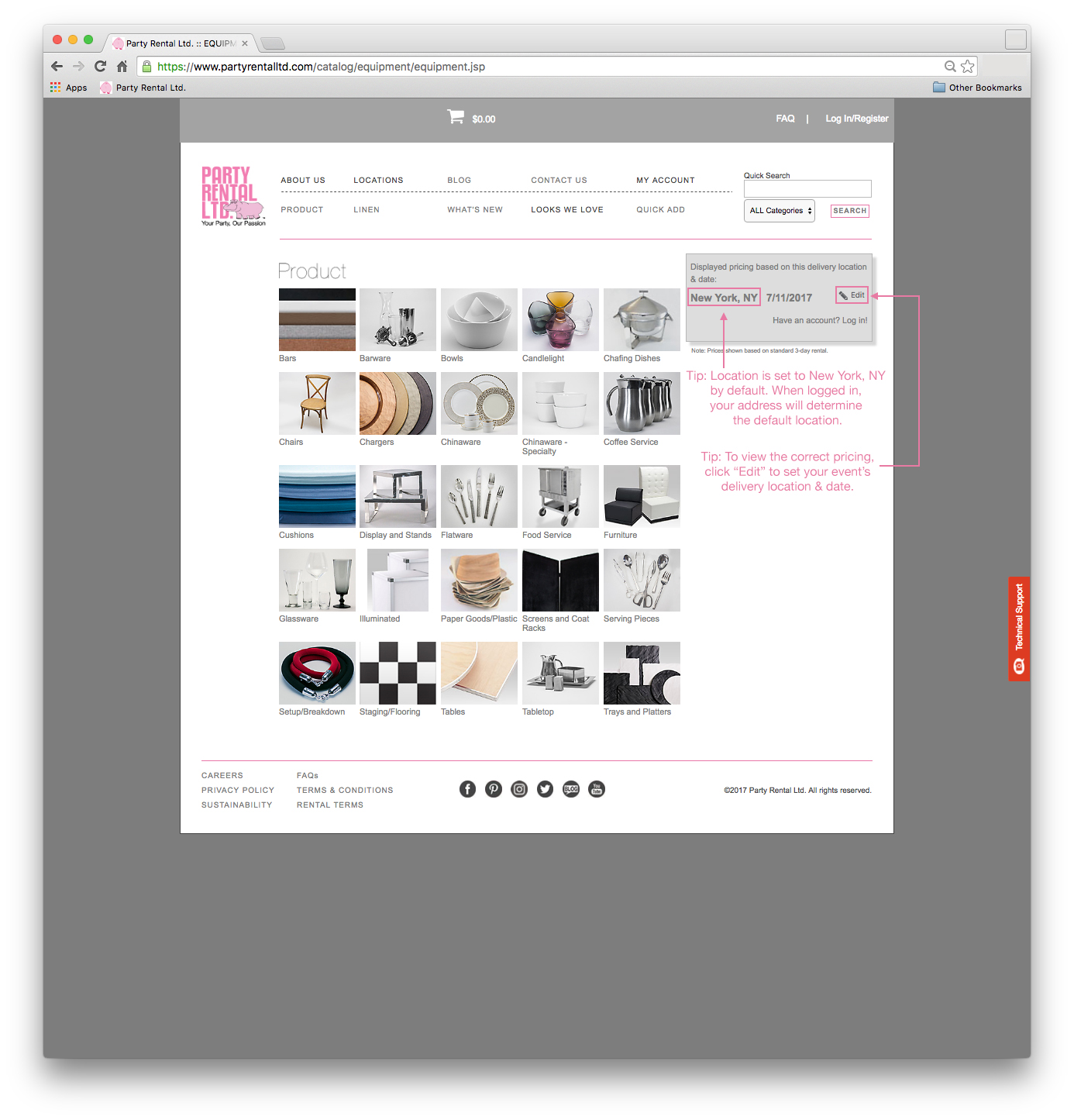 The Ultimate Planning Tool: Carts
With so many events on your calendar and product options to choose from for each, how do you organize it all?  Introducing the Cart feature, created as a flexible planning tool to help you add and organize your rental needs for your upcoming events.  The Cart can be used in a variety of ways, depending on your needs and where you are in the event planning process.  When you create & login to your account, you get access to exclusive Cart features, like the ability to save & access multiple carts or our new Drop Zone order organizing feature.
If you're ready to place your order, our Cart feature can be used the same way you'd use a cart feature on most online shopping sites.  You can add products to your cart – either by searching for the product, by browsing for the product, or by typing the product right into the "Quick Add" box inside the cart.  Once your cart is ready, you can proceed to Checkout, where you'll provide delivery and payment information. When Checkout is complete, your Cart will be entered into our system as a confirmed Order.  It's that easy!
While in your Cart, you can change the name of your cart, revise quantities, and, if you're logged in, use the Delivery Drop Zone feature to organize your product list.  After any changes, click "Update"or "Save", and you're all set.
If you're still in the planning process, Carts can be a useful tool to help you organize your various events and rental options.  You can create a cart for each of your upcoming events to keep your rental needs in one, easy-to-access place.  If you're choosing between several different options — for example, different color palettes, budget options, buffet layouts, etc. — you can create a cart for each option to help you decide which option is right for your event.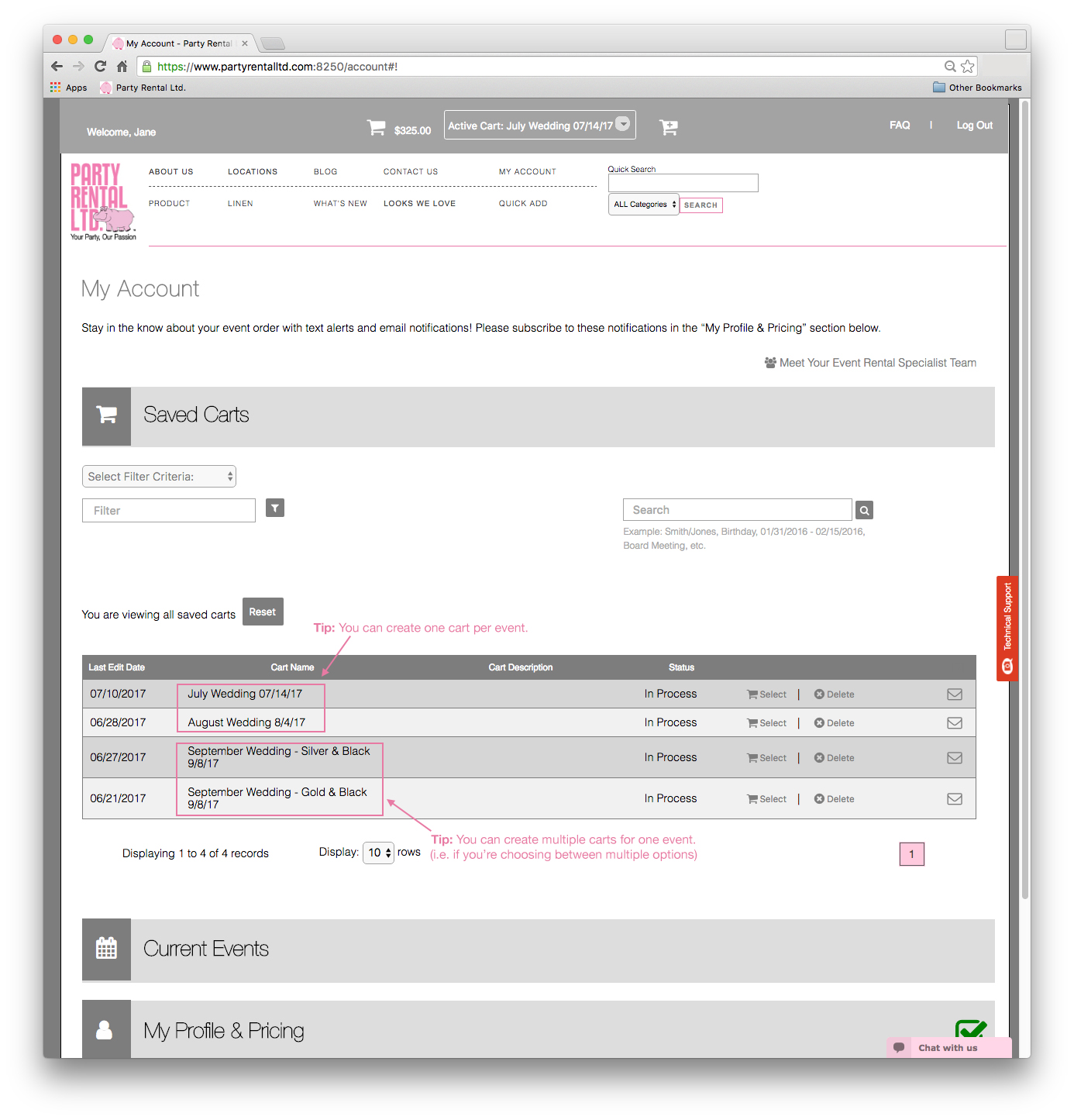 We know that collaboration is key when planning events, so we made it easy for you to share Carts with your colleagues and clients.  At the bottom of your Cart, click "Share This Cart", enter the recipient's information, and click "Share Cart".  They'll receive a view-only version of the Cart that updates dynamically, so they'll always see the most up-to-date version. #TechRocks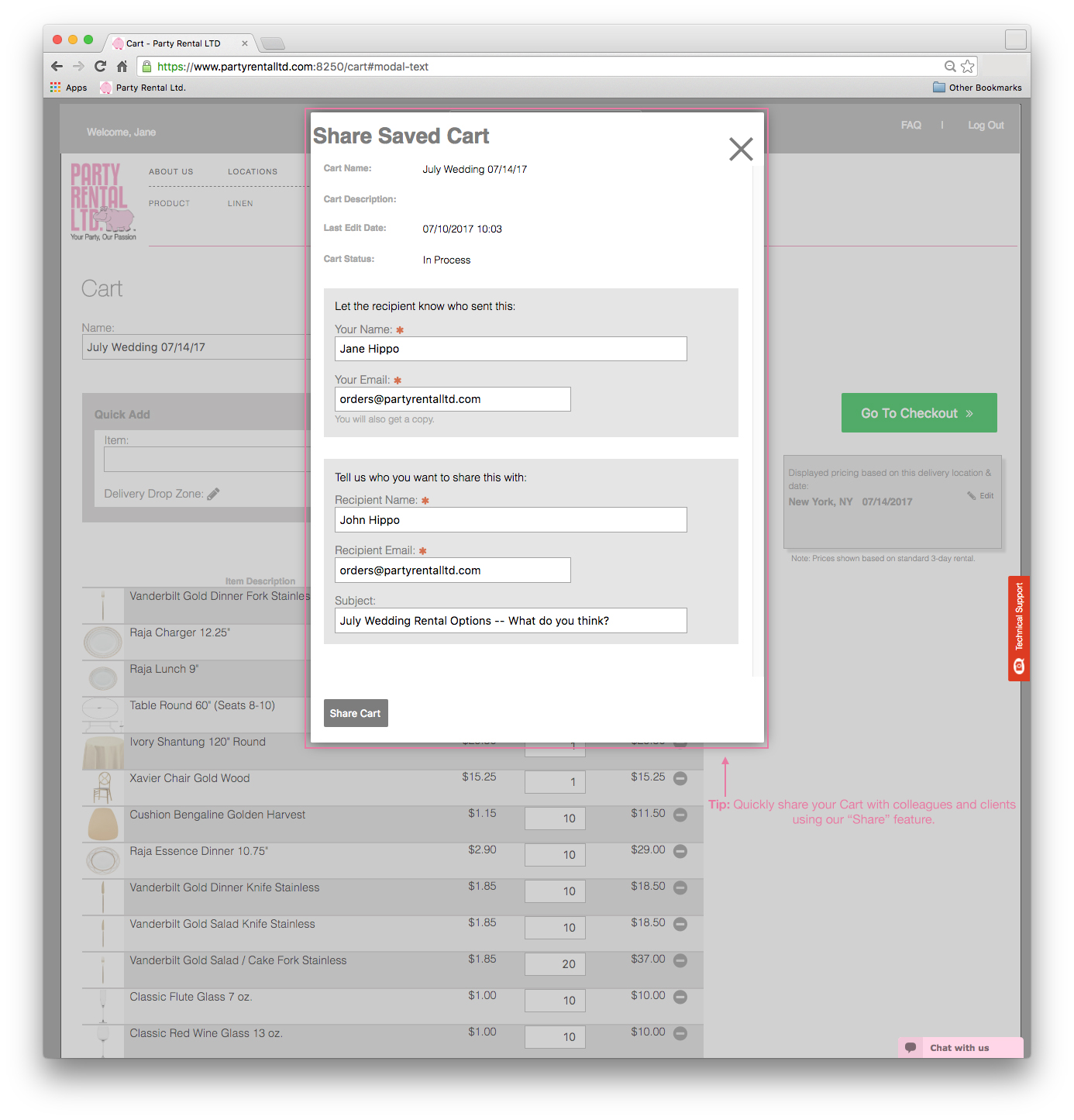 Remember: Carts are planning tools, and they don't confirm delivery or product availability.  To submit your Cart into the system and schedule your delivery, please complete the checkout process by clicking "Go to Checkout."
Placing an Order
To place your order, view the Cart you'd like to submit and click "Go to Checkout".  On the Checkout page, please fill out all required delivery and payment information.
Here's some quick tips for checkout:
Please be sure to provide us with as much delivery and pickup information as possible (including all on-site contact information) so that our drivers are prepared when they arrive for delivery and pickup.

If your delivery & pickup location/contact information are the same, save time by choosing "Copy Delivery Address & Instructions for Pickup" — easy!

If someone other than you will be paying for your rental order (for example, if your client will be paying us directly), choose "Alternate Billing Contact" and enter the billing contact's information.  We will send them an email with a link where they can view their order and securely provide payment information.
Revising an Order
Did you know you can make revisions to your online orders right through our website up until 24-hours prior to delivery?  While logged in, choose the order you'd like to revise from your list of "Current Events" on your My Account page — any orders available to edit have a pencil icon next to the Event Number.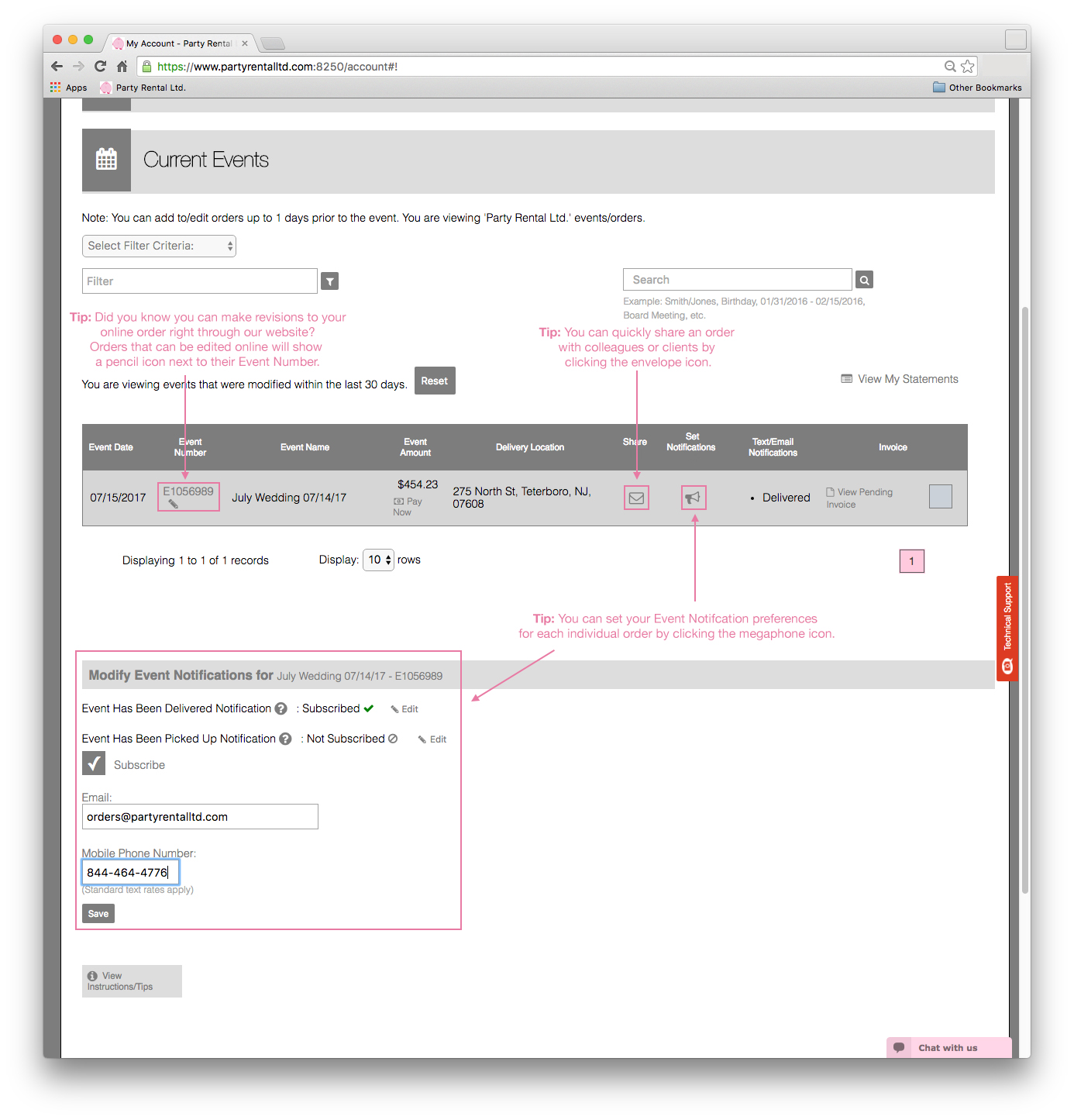 Once you're in the order, you can add products, remove products, and revise quantities and click "Update".  Important Reminder:  After you complete any product revisions, be sure to click "Go to Checkout", verify your delivery and payment one more time (making any edits, as necessary) and click "Checkout" to submit your changes into the system.  
If you have any questions or need any assistance with your orders, our Customer Service team will always be there to help.  Reach us by phone at 844-GO-HIPPO or by email at orders@partyrentalltd.com and one of our Event Rental Specialists will be happy to assist you.