After months of prepping, we are thrilled to announce that we are now serving the amazing events in Massachusetts and Rhode Island.  Simply put: Something BIG has arrived in Boston, and we're ready to "pahdee!"
We are now serving the Boston-area with two state-of-the-art facilities — our Boston Design studio and Franklin Warehouse & Design Studio.  Both conveniently-located Design Studios showcase our vast rental collection and act as a creative environment where you and your client can experience our products and work with our fabulous team to craft the design of your dreams.  Scheduling an appointment is easy — a quick email to boston@partyrentalltd.com or phone call to 844-GO-HIPPO will get you started.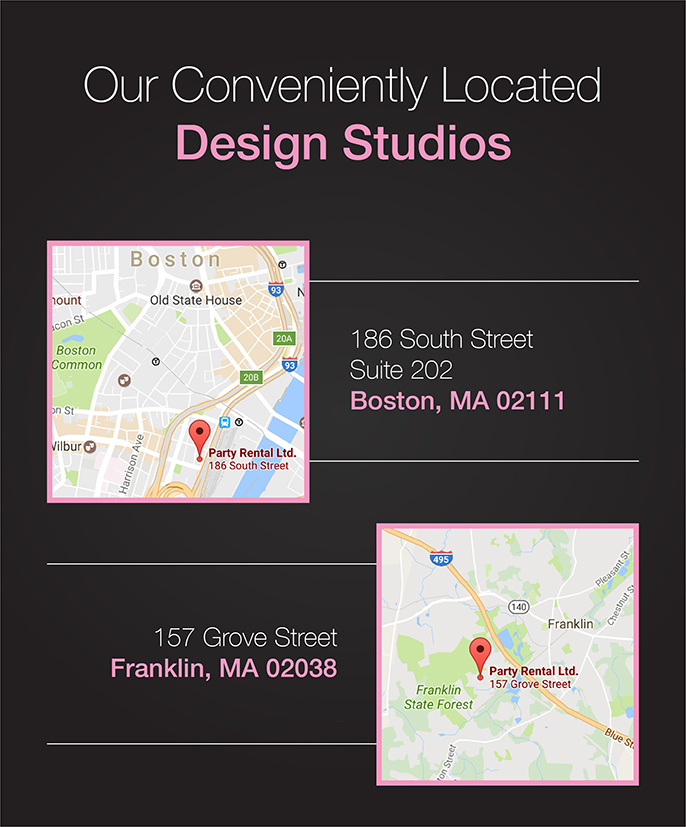 Our new Boston-area clients can expect the same exceptional quality and service we provide to all of our clients, from both our central Customer Service team and local Business Development & Delivery teams.  They will get access to our massive, diverse inventory — with over a hundred new products added every year — for everything from weddings, to fundraisers, to farm-to-table culinary experiences, and beyond.  To ensure that our local team has the same family-owned, organically-grown culture of excellence that set all our locations apart, key team members have relocated to welcome the Boston team into our family.
In addition to our fabulous teams and products, our Boston-area clients will have access to the new online ordering features on our website to help them quickly and easily get pricing, place orders, and manage their accounts.  We're constantly rolling out new features and upgrades, and more exciting things are on the way! (A little hippo even told us a full website redesign with gorgeous photography and tons of product info is in the works…)
While our pink hippo might be the new party animal in town, our local team is made of many seasoned pro's who call Boston home.  Sandy Smith is a third-generation Bostonian who began her hospitality career over 30 years ago. She spent 17 years with New England Linen, learning all she could about the industry and providing unbeatable service. Sandy then spent three years with us, helping us better serve our corporate dining customers, before leaving to pursue other projects.  At last, Sandy has rejoined the Party Rental Ltd. family as we expand to her home turf, with invaluable industry knowledge and a passion for the Boston hospitality community.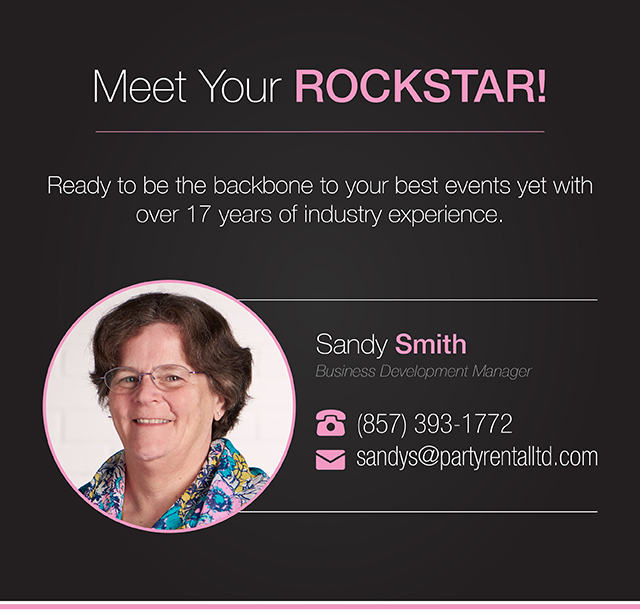 As our Boston Business Development Manager, Sandy is excited to help our new and existing client partners bring their best events to life.  She's available for consultations in either of our two local Design Studios.
To our new Boston-area client partners: Hello! We are so excited to work with you, and can't wait to be a part of the incredible events you create.  You can get started by placing an order through our website http://www.partyrentalltd.com, sending us an email to boston@partyrentalltd.com, or calling 844-GO-HIPPO.  We're happy to help with any questions you have along the way, so don't hesitate to reach out! 
To our existing clients who produce world-class events in Massachusetts and Rhode Island: We can't wait to see you there!
Snap a great photo of an event you created with our products?  We'd love to see!  Tag us on Instagram, Facebook, and Twitter with @partyrentalltd. (and if you see our pink hippos on the road, #hipposighting will let us know!)
P.S. If you have any suggestions for how we can better serve you or if you have the next great product idea, let us know at ideas@partyrentalltd.com