Although Greenery is the 2017 Color of the Year, "going green" isn't just the latest trend – it's a movement that's changing the way we think about how we live, work, and even host events in our communities.  Being mindful of our impact on the environment has become more and more integral to everything we do.  We know how important going green is to our clients, their clients, our employees, and the communities we serve, and we're happy to be partners in the effort.
"Going pink" by choosing rentals for your event is a great first step towards going green.  By using rentals, rather than purchasing brand new products then disposing them post-event,  you can help reduce your event's footprint.  Using chinaware, silverware, glassware, and cloth linens instead of disposables also helps cut down on waste. We reuse each product as many times as possible while maintaining our quality standards, and once we're no longer able to reuse a product, we make every effort to recycle it.  The classic "three R's" (reduce, reuse, recycle) really should have a fourth "R" — rentals!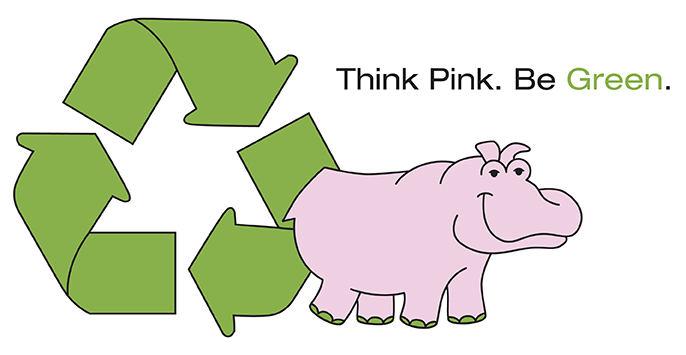 Even though the nature of the event rental business inherently promotes sustainability, we're always looking for new, innovative ways for us to reduce our impact. 
This month, we replaced half of our glass washers with new state-of-the-art machines that use active filtration that use up to 66% less water.  Over the next year, we'll be replacing the remaining machines with the new model to help further conserve water during the washing process.
In 2015, we installed a 200-kilowatt (kW) solar energy system above our laundry facility in Teterboro, NJ.  By partnering with Enter Solar on the installation, we are able to generate almost a third (31.4%) of the laundry facility's annual electricity requirements through solar power. The energy we save by generating clean electricity on-site is equivalent to saving nearly 18,5000 gallons of gas every year – a big savings that helps offset the impact of our truck fleet.
Our Laundry team has also found ways to help further reduce our imprint.  Our tunnel washer uses a similar mechanism as our new glass washers that allow it to conserve water during the wash cycle.  Our clients are a big part of our hanger recycling initiative — by sending our linen hangers back with your order pickup, we get the opportunity to reuse them multiple times, helping to reduce waste. We also make an effort to use fabric as many times as possible during its lifespan — as linens become worn, we cut them down into smaller, usable linen sizes, work banquets, or napkins to extend its usage.
We love embracing tech to help make our processes more green, our our Laundry & Linen teams found a way to do so with the help of RFID chips.  Each of our linens is RFID tagged with its fabric & size information.  As a linen moves through the laundry process, its chip is scanned and registered in our system.  If the system sees that the scanned linen can be used for an upcoming order, our Laundry team is notified and the clean linen is sent to our main warehouse to be loaded onto the delivery truck.  By locating existing linens for upcoming orders within the laundry cycle, we reduce the number of linens that are cut everyday, further reducing our impact.
From solar power to water conservation to a push towards paperless and everything in-between, going green is a big part of it what it means to "think pink" here at Party Rental Ltd. We continue to be creative and find new ways to be sustainable so we can always keep the party going!