The weather's getting colder, the days are getting shorter, and we're quickly approaching the winter holidays.  The magic of the season brings friends, family, and colleagues from all corners of the globe to celebrate another wonderful year together.  Whether you're planning a company cocktail party for 1000 or a family dinner for 10, here are some ideas and inspiration to get you in the holiday state of mind.  (P.S. If you need a few winter-inspired cocktail recipes to toast to an event-well-planned, we've got you covered on those, too. #yourewelcome)
Cocktail Party Inspiration
One of the most popular ways to entertain during the holiday season, cocktail parties bring crowds both large and small together to mix and mingle over great drinks, small bites, and good music.  Even if you opt out of a formal seated dinner, there are many ways to create a festive feel.
Sleek Furniture & Sparkling Sequins
Sleek furniture pieces are a great way to set the tone during cocktails, being just as fashionable as they are functional.  Bar Screens make a bold statement with their straight, clean lines, perfect for bars and food stations alike — just don't forget to add a corresponding table and linen to complete the look!  Lounge furniture, like our Metro Collection and Upholstered Ottomans, is perfect for creating ambiance and providing plenty of comfortable seating for guests.  And is there anything that says "holiday magic" more than sequins?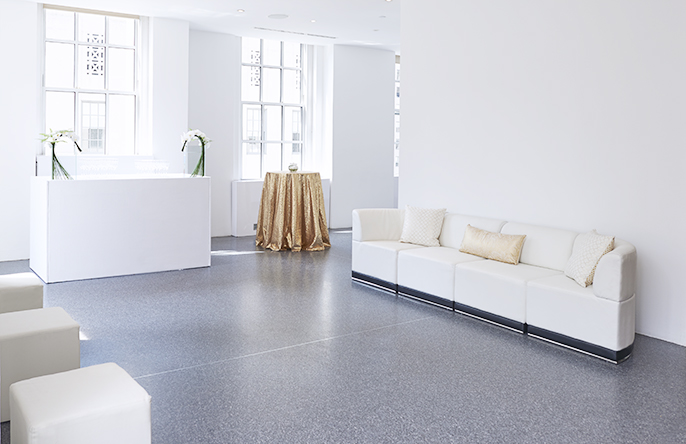 Get this look!  Party Rental Ltd. products featured:
Bar Screen Rattan White 6', White Rattan linen, Gold Sequin Print Specialty, Athens Red Wine Glass 12oz, Athens White Wine Glass 8oz, Metro White Armless Chair, Metro White Corner Chair, Upholstered Ottoman White 18" Square
(Venue:  620 Loft and Garden, Floral: Ovando)
Illuminated Bars & Tables
Bring any event to life with the Illuminated Bars, Hightops, and Cubes. Available in two styles — Illuminated and Glow — and a variety of pieces, the Illuminated collection creates a fun atmosphere that's totally customizable.  Set the color of the illuminated pieces to match company colors, branding, or theme, or choose one of the animated settings for an exciting lighting display.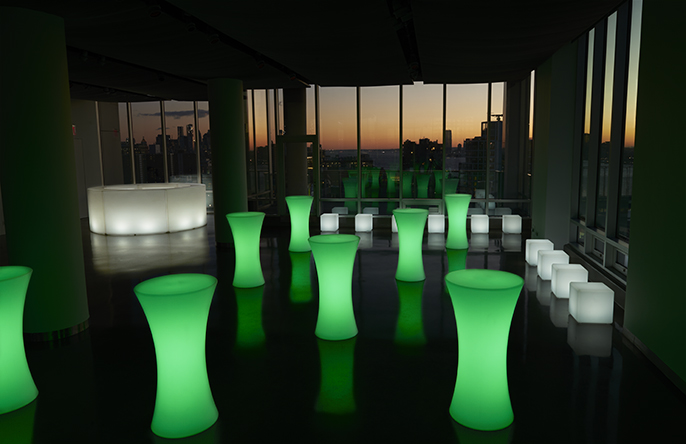 Get this look!  Party Rental Ltd. products featured:
Glow Illuminated Bar Curved, Glow Illuminated Hightop, Glow Illuminated Cube
(Venue:  The Glasshouses)
Velveteen Dream
Lush, luxe Velveteen linens are a classic choice for the cold holiday season, with their rich texture and unique way of reflecting the light.  Our newly expanded collection is now available in six linen colors and six cushion colors, giving you a wide variety of ways to incorporate the fabric into your designs.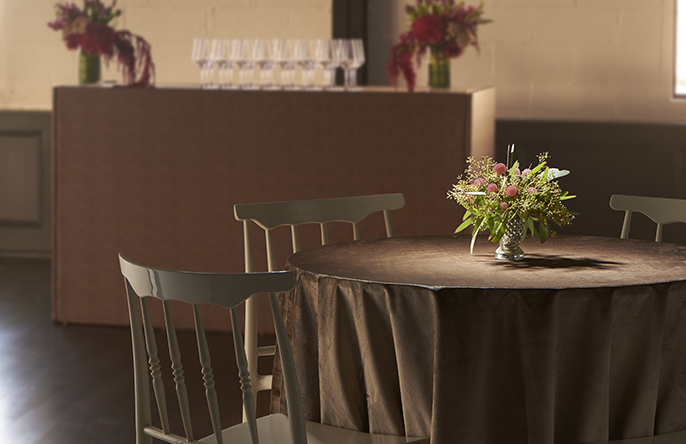 Get this look!  Party Rental Ltd. products featured:
Velveteen Champagne, Capri Bone White Chair, Bar Screen Brown Ostrich, Walnut Rattan linen, Stockholm Red Wine Crystal Glass 15oz
(Venue:  Hudson Loft, Floral: Carolyn Dempsey Design)
Holiday Dining Styles
Onto one of the major reasons we love holiday parties:  amazing food.  There are many different ways to serve your guests, depending on your menu, guest count, budget, and personal preferences, but two styles we tend to see often during the holiday season are Buffet-Style and, more recently, Family-Style.  The social nature of both styles is perfect for encouraging mingling and creating memories.
Buffet-Style
Buffet-style dining is a classic serving style for holiday parties, but just because it's a traditional option, doesn't mean it has to be boring!  Mix it up with a textured linen, like our Dolce Crush style, or a unique chinaware pattern to dazzle and delight.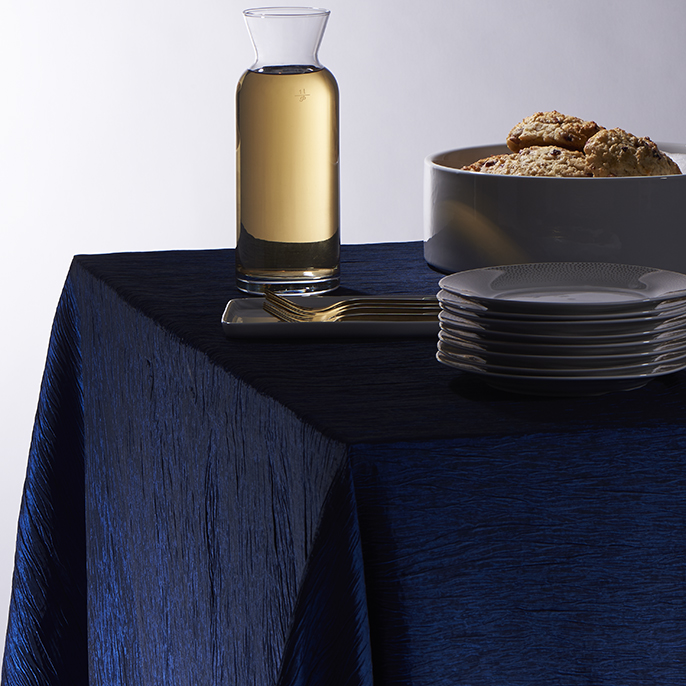 Get this look!  Party Rental Ltd. products featured:
Dolce Crush Royal Blue, Confetti Cocktail Plate 8", Village Carafe 33.25oz, Bowl Ceramic Stackable Straight Sided 12"x3.5", Vanderbilt Brushed Gold flatware, Tray Ceramic Rectangle 16"x4.75"
Family-Style
Guests gathering around the table, chatting with neighbors as they pass around bowls and platters of delicious food is a quintessential holiday scene.  Family-style dining is more popular than ever, and it really lends itself to holiday dining.  Check out our ultimate guide to Family-Style for tips, tricks, and suggestions for planning the perfect meal.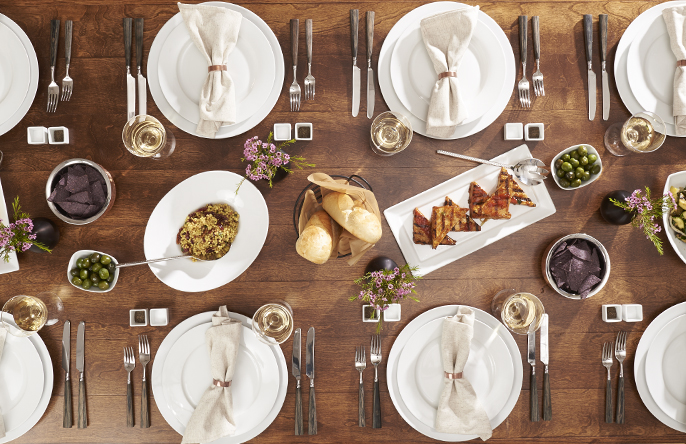 Get this look!  Party Rental Ltd. products featured:
Mason Dining Table 8'x42″, White Rim Chop Plate, White Rim Dinner Plate, Sedona Wood flatware, Heather Cotton Premium Dinner Napkin, Brushed Copper Napkin Ring, Berlin Goblet 15oz, Tasting Ceramic Cube 1.5", Bowl Copper Moroccan 6″, Mini Ceramic Rectangular Sauce Bowl 5oz, Marchesi Bowl 11.75"x9.75"x3", Hammered Stainless Serving Spoon 10.25",Wrought Iron Bread Basket Size Large, Platter Ceramic Rectangle 13"x8", Hammered Stainless Serving Fork 10.25"
Holiday Dinner Looks
Sparkle, shine, and rich, vibrant tones are design favorites for the holiday season.  Whether you prefer rustic or traditional, ornate or modern, here's some design inspiration for any occasion.
Metallic Gold Mix & Match
A unique combination of gold and white chinaware patterns, gold accents, and a textured bronze table runner make a holiday design that shines.  The mix of metallics are especially perfect for New Year's celebrations — just add bubbly!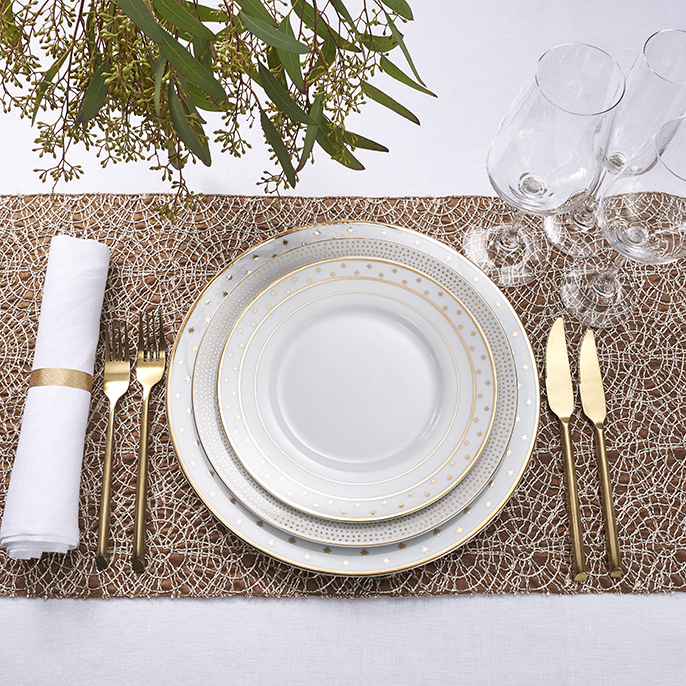 Get this look!  Party Rental Ltd. products featured:
White Irish Linen, Galileo Bronze Print Premium Table Runner, Raja Charger 12.25", Confetti Gold Dinner 11", Raja Lunch 9", Vanderbilt Brushed Gold flatware, Stockholm Red Wine Crystal Glass 15oz, Stockholm White Wine Crystal Glass 11oz, Stockholm Flute Crystal Glass 6oz, White Irish Linen Dinner Napkin, Napkin Ring Brushed Gold Round
Mad for Plaid
Elevate a traditional plaid linen with ornate gold accents for a fresh take on a classic holiday design.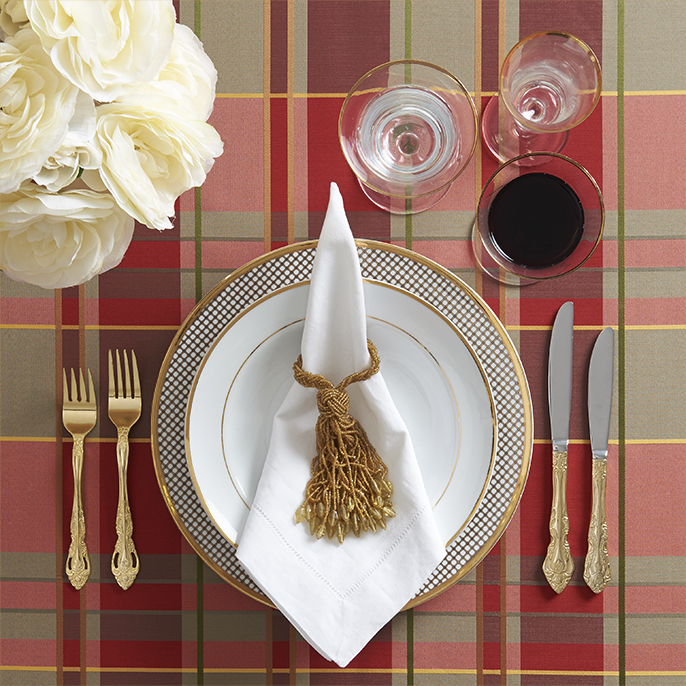 Get this look!  Party Rental Ltd. products featured:
Cardinal Plaid Print, Napoleon Gold Lattice 11.75" Charger, White Rim Gold Border Salad / Cake, Kings Palace Gold flatware, Gold Bell Flute Glass 6 oz., Gold Bell White Wine Glass 8 oz., Gold Bell Water / Red Wine Glass 10 oz.,  White Church Dinner Napkin
Rustic Chic with Metallic Accents
Bring the outdoors into your holiday party with our new rustic Country Table, matte chinaware, textured metals, and seasonal foliage.  Check print napkins give a nod to comfy winter flannel.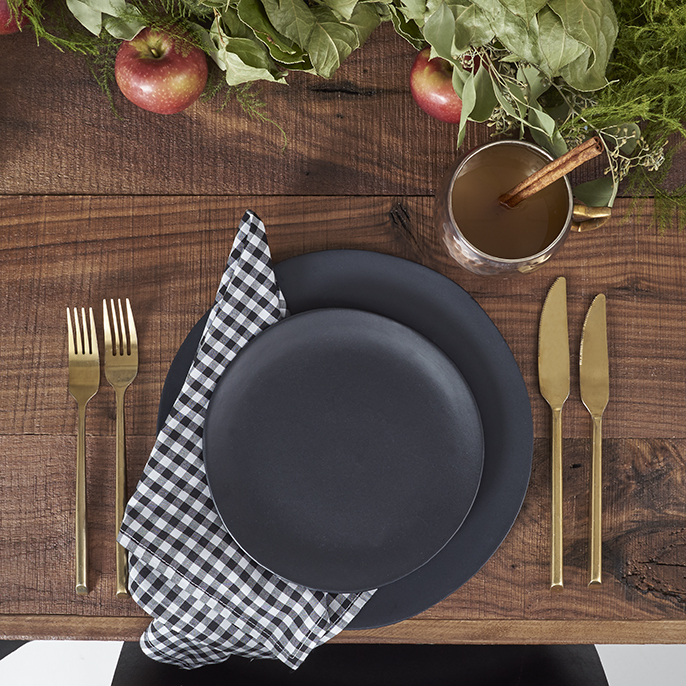 Get this look!  Party Rental Ltd. products featured:
Country Table 8'x42", Black Bellini Chair, Aster Matte Black Dinner 10.75", Aster Matte Black Lunch 8", Vanderbilt Gold Brushed flatware, Antiqued Copper Hammered Mule Mug, Walton Black & White Check Dinner Napkin
Simply Red
The bold, textured Simplicity Red Print Premium linen combined with scalloped Whisper chinaware, gold printed Confetti Cocktail Plate, and textured Carnegie Hill flatware makes for a holiday look that's both whimsical and refined.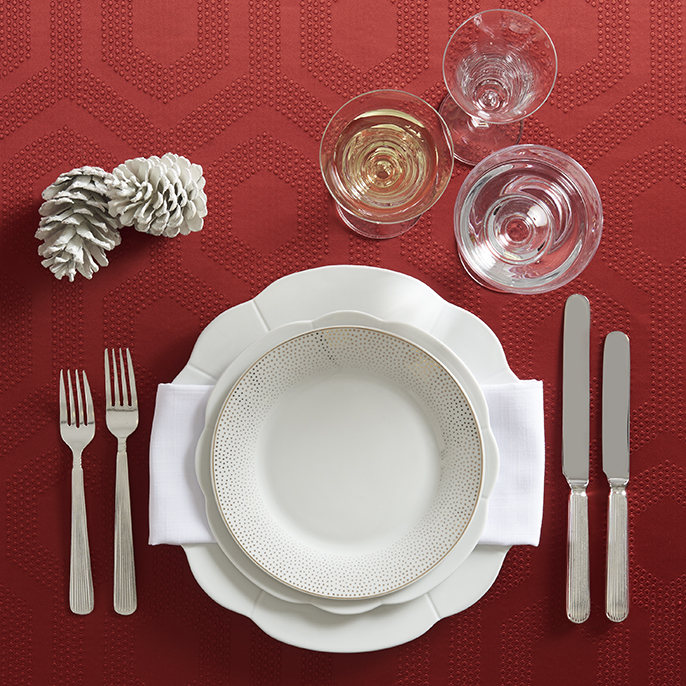 Get this look!  Party Rental Ltd. products featured:
Simplicity Red Print Premium, Whisper White Plate 11.5", Whisper White Plate 9", Confetti Cocktail Plate 8", Carnegie Hill flatware, Dyana Flute Glass 5oz, Dyana White Wine Glass 6oz, Dyana Red Wine / Water Glass 8oz, White Nu Weave Dinner Napkin
Play with Patterns
Our Chevron Noir Print linen is a neutral-yet-bold geometric print that is the perfect backdrop for any holiday design.  We paired this look with a rich Bordeaux Shantung napkin, but you can use any pop of color that fits your vision.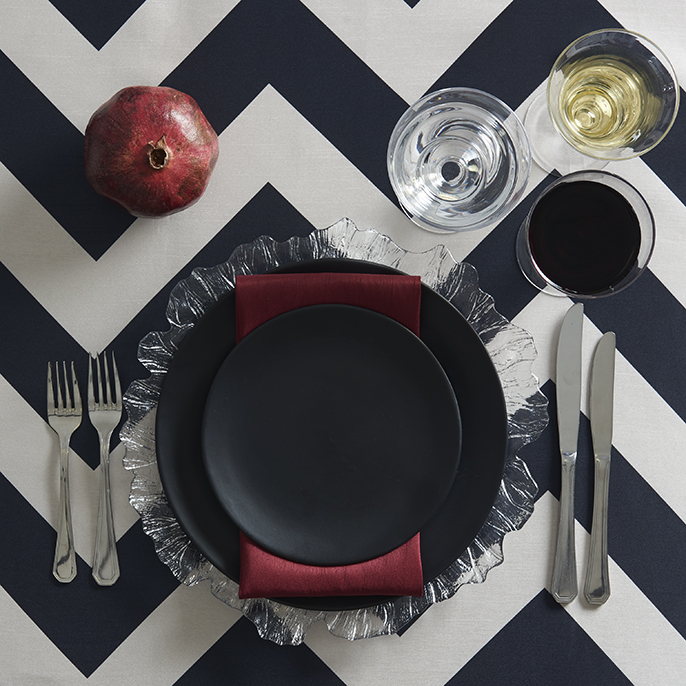 Get this look!  Party Rental Ltd. products featured:
Chevron Noir Print, Voss Clear Charger 13", Aster Matte Black Dinner 10.75", Aster Matte Black Lunch 8", Gotham Stainless flatware, Berlin Goblet 15oz, Berlin Flute 10oz, Berlin White Wine Glass 12oz, Bordeaux Shantung Napkin

Ready to get into the holiday spirit?  Contact our Event Rental Specialists to start planning your event!

 201.727.4700
www.partyrentalltd.com
P.S.  Thank you to 620 Loft and Garden, The Glasshouses, and Hudson Loft for allowing us to photograph in your gorgeous spaces!