Each year, Pantone, the leading authority on color, announces their Color of the Year — a hue meant to inspire designs and guide visions as we navigate the beauty and challenges of the coming year.  This year's Color of the Year was chosen to inspire boundary-breaking innovation and thoughtful introspection, through a rich, blue-based purple hue: Ultra Violet.
Leatrice Eiseman, Executive Director of the Pantone Color Institute says of the hue:
"We are living in a time that requires inventiveness and imagination.  It is this kind of creative inspiration that is indigenous to PANTONE 18-3838 Ultra Violet, a blue-based purple that takes our awareness and potential to a higher level.  From exploring new technologies and the greater galaxy, to artistic expression and spiritual reflection, intuitive Ultra Violet lights the way to what is yet to come."
Ultra Violet in Event Design
Feeling inspired by Ultra Violet?  You can incorporate the hue and other amethyst shades into your event designs in ways both big and small.  For a bold statement, our Gatsby Amethyst linen is a burst of texture — use it on accent tables as a nod to the Color of the Year or throughout your entire event for an all-out Ultra Violet look.  Our Roma Amethyst Glasses are perfect tabletop accent, and our Fleur Violet chinaware adds a vintage-inspired element.  Serve your favorite bites or set the foundation for your place settings with the Aurora Violet charger, or incorporate a subtle hint of purple with our Tri-Sided Amethyst Votives.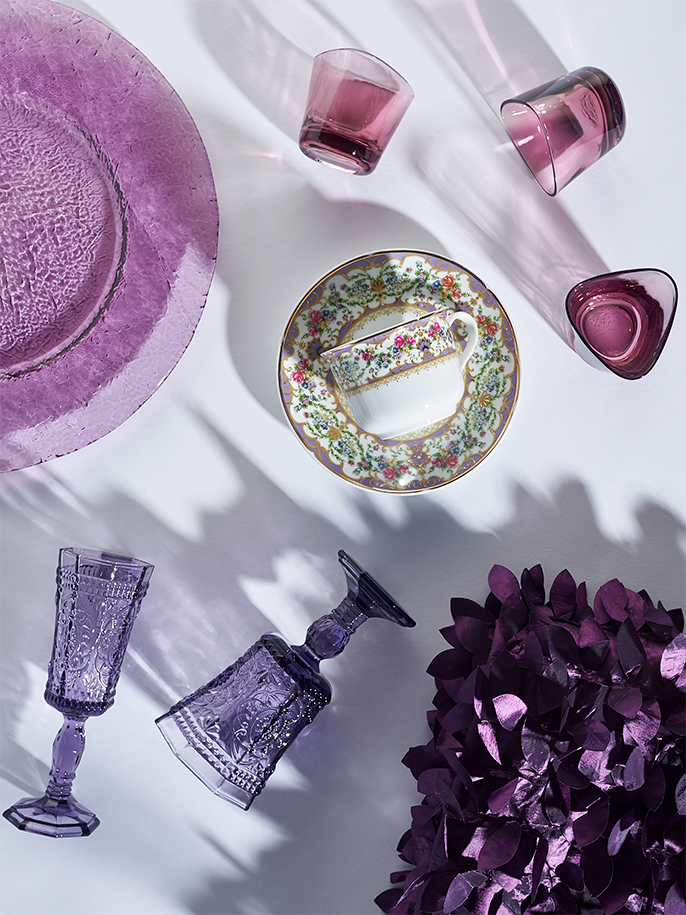 Get this look!  Party Rental Ltd. products featured:
Aurora Violet Glass Charger 13", Fleur Coffee/Tea Cup Violet, Fleur Coffee/Tea Saucer Violet, Votive Glass Tri-Sided Amethyst, Gatsby Amethyst Texture, Roma Amethyst Goblet 8oz, Roma Amethyst Flute 4oz
Spring 2018 Color Report
In addition to Ultra Violet, Pantone choose eleven unique hues as part of their Spring 2018 Fashion Color Trend Report for New York Fashion Week, highlighting the top colors they expected to see on the catwalks of New York City.  Recognizing consumers' passion for color, they curated twelve colors that were expressive, versatile, and combine into endless fresh combinations.
Eiseman says of the spring 2018 NYFW Color Palette:
"The color palette showcases an appreciation for the complexity and distinctiveness of color and the expression of it, which is something that evolves and can be played with.  Consumers need more variety, and this expanded palette embraces the lack of gender and seasonal borders we are seeing within the fashion industry."
Here are our ten linen picks inspired by the Spring 2018 New York Fashion Week Report for you to use in your seasonal event designs and beyond.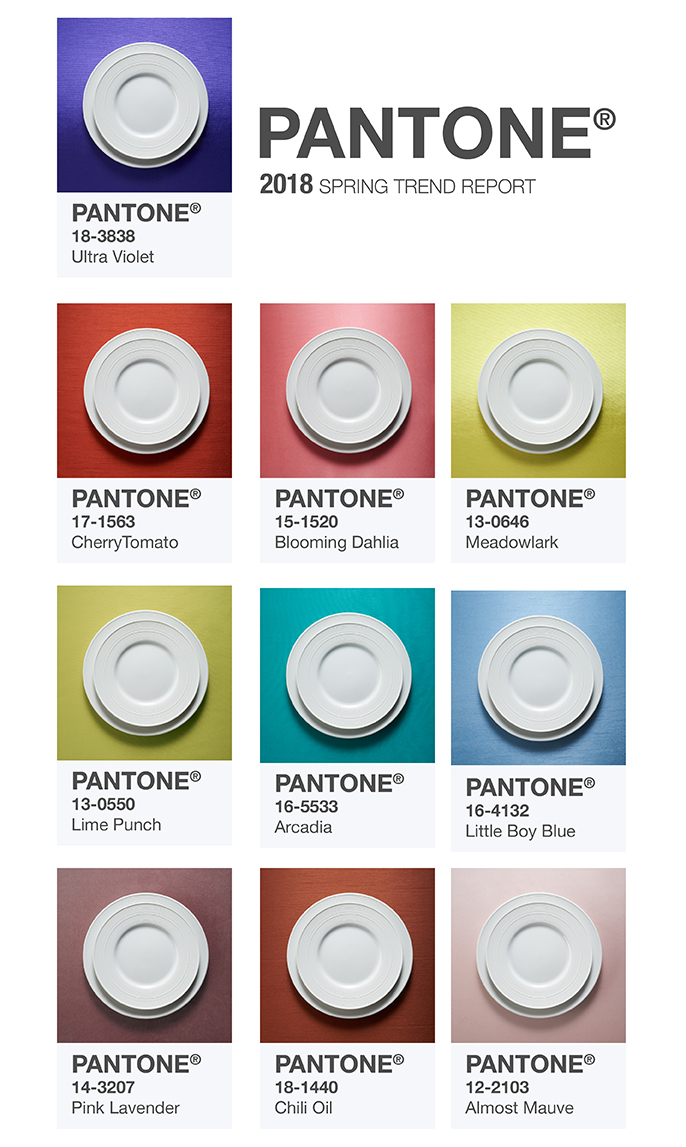 Get this look!  Party Rental Ltd. products featured:
Wood Violet Bengaline (inspired by Ultra Violet), Brick Shantung (inspired by Cherry Tomato), Fiesta Coral Satin (inspired by Blooming Dahlia), Lemon Ice Bengaline (inspired by Meadowlark), Chartreuse Cotton (inspired by Lime Punch), Lagoon Cotton (inspired by Arcadia), Ocean Shantung (inspired by Little Boy Blue), Rose Velveteen (inspired by Pink Lavender), Copper Shantung (inspired by Chili Oil), Blush Satin (inspired by Almost Mauve)