We've been working on tons of new features since the launch of our online ordering system that will help you place and manage your orders more quickly and efficiently.  We're thrilled to deliver the news that two more features have arrived:  Delivery Notifications and Delivery Drop Zones!
You now have the ability to sign up for text and/or email notifications that will alert you when your deliveries and pickups have been completed.  To get started, login to your web account.  (Still need to create one? It's easy!) and visit the "My Account" page.  Under "My Profile & Pricing", find the heading "My Account Details".  There, you'll see a megaphone icon labeled "Text/Email Notifications" — click the "Edit" icon beside it.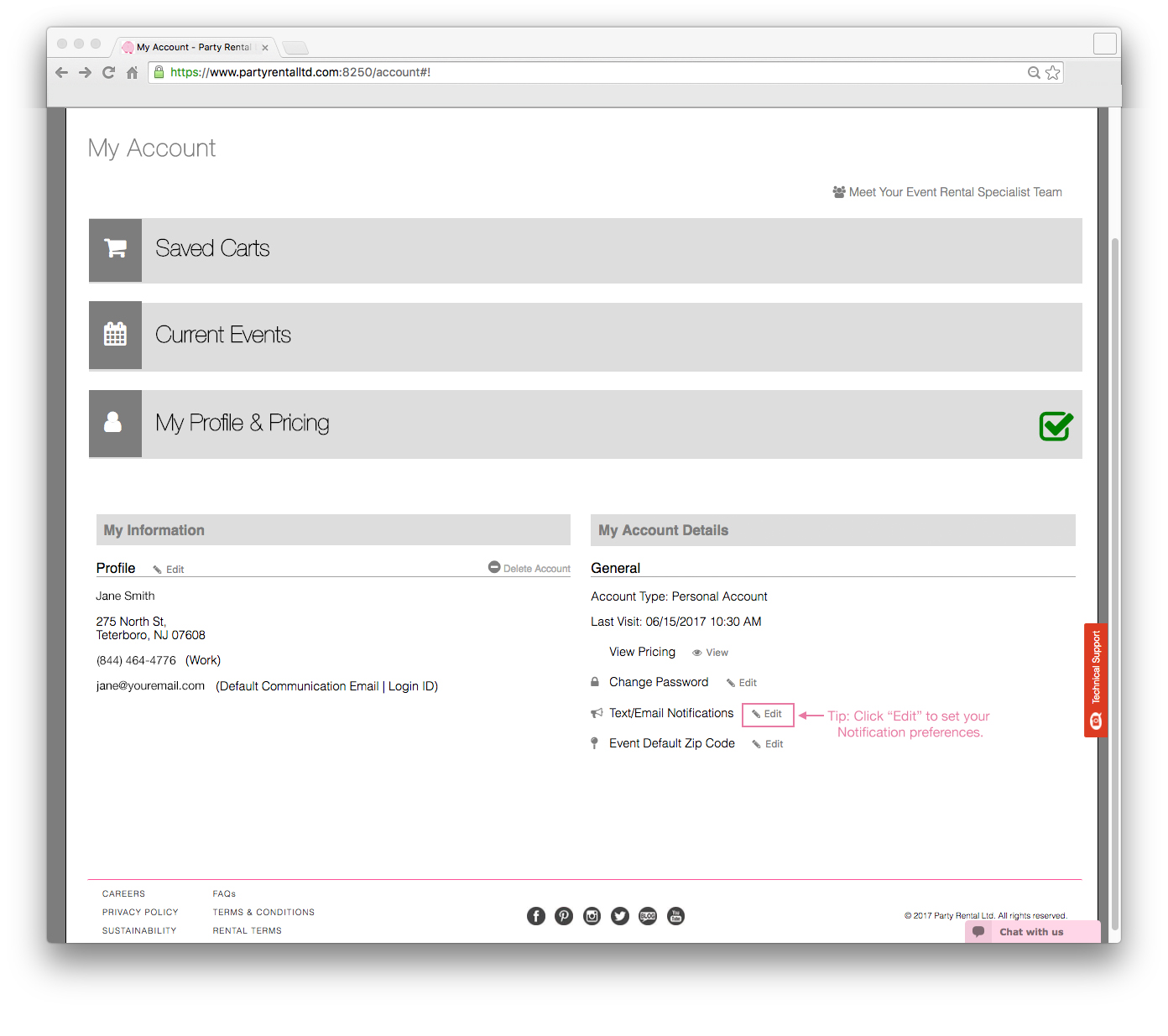 Under "Event Delivery & Pickup Communications", you can choose to edit your Delivery notifications and Pickup notifications individually by choosing the "Edit" icon beside either.  When you subscribe, you can choose to receive your updates by text, by email, or both.  (Please note that for text alerts, standard text and data rates apply.)  Click save, and you're ready to go!  Your notification preferences will be applied to all of the orders you submit both through the website and through Customer Service.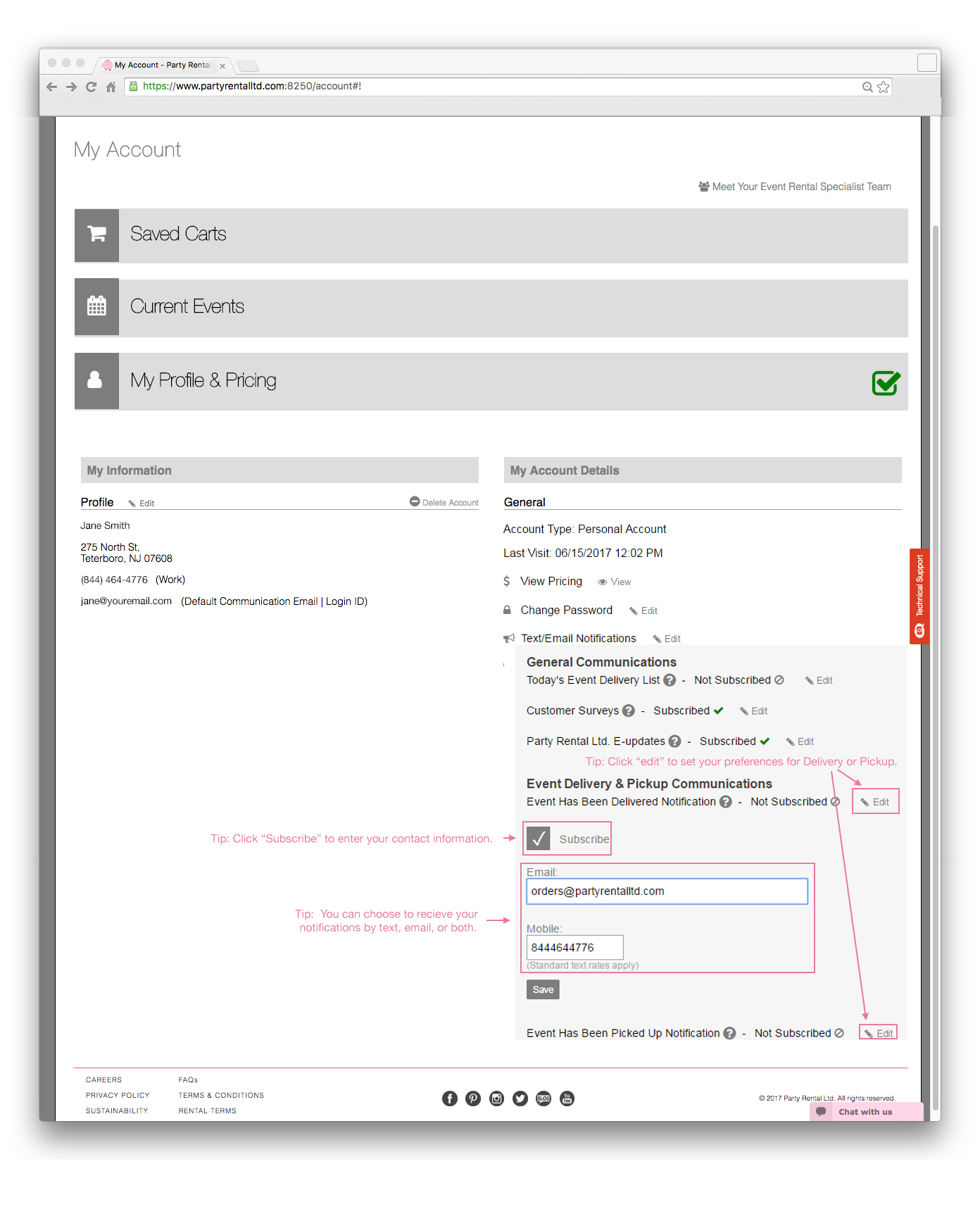 Our Delivery Drop Zone feature was created with efficient delivery and order management in mind.  A Delivery Drop Zone is defined as "a specific area at one address where a portion of an order will be placed".  Delivery Drop Zones can be used to organize an order so the delivery team will know exactly which pieces will go to a specific area on-site, helping to make delivery more efficient.  You can even let us know at checkout if there's a particular order you'd like the Delivery Drop Zones to be delivered.
Need an example?  Here's a few ways you can use Delivery Drop Zones to organize your order:
By floor:  1st Floor, 2nd Floor, 3rd Floor, Basement

By physical area:  Kitchen, Ballroom, Green Room, Backyard

By part of the event:  Ceremony, Bar, Dinner, Dessert
To get started with Drop Zones, first be sure you're logged into your account.  Next, open the cart or order that you'd like to organize by clicking on the cart icon (pre-checkout), clicking "Quick Add", or by choosing a cart or order from your My Account page. Under the "Quick Add" header, click the pencil icon to create your Drop Zones.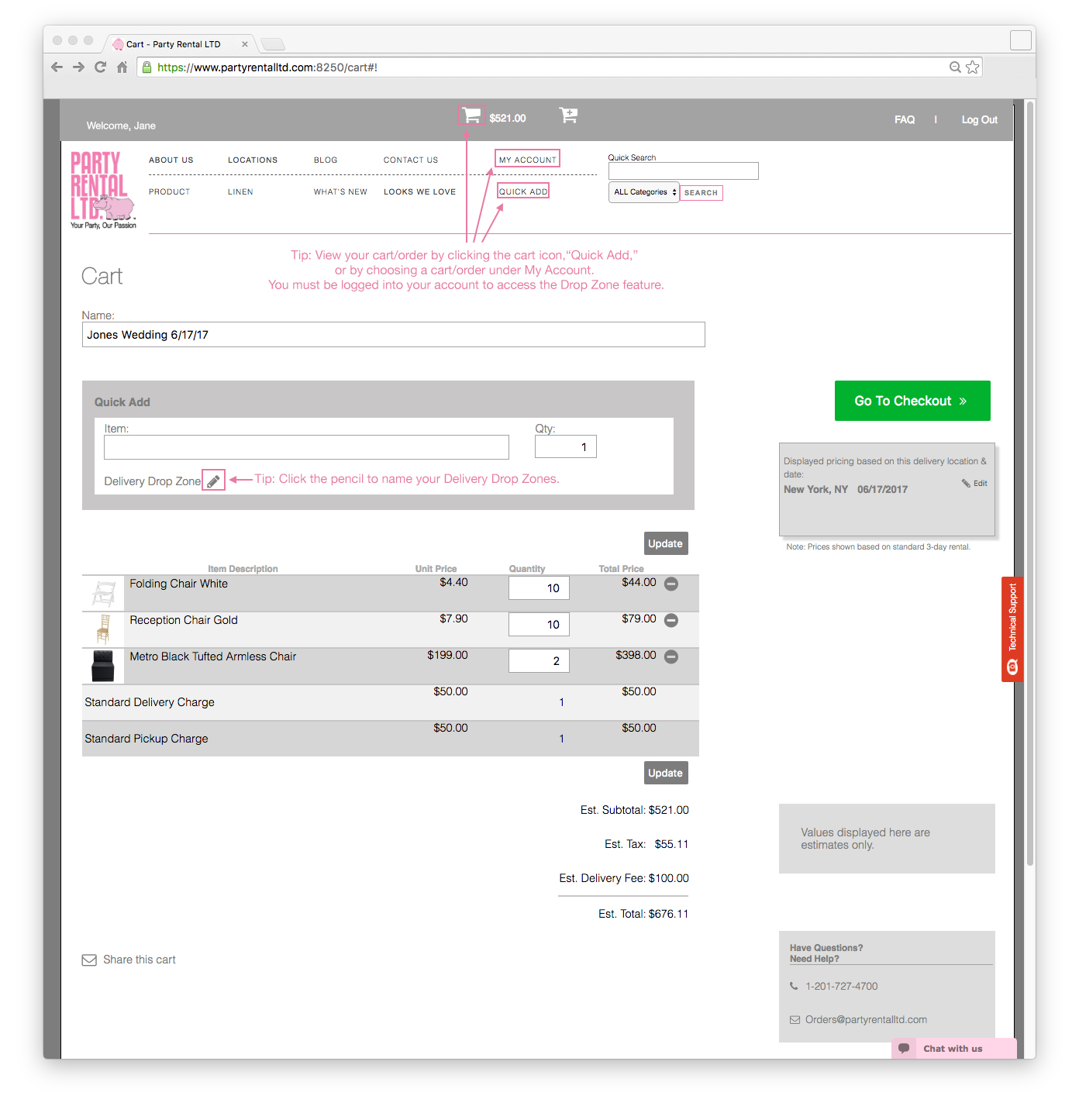 You can create up to five Drop Zones with any names that will help organize your order best.  When you're finished, click "Save".  You can edit your Drop Zone names later by clicking the same pencil icon under "Quick Add".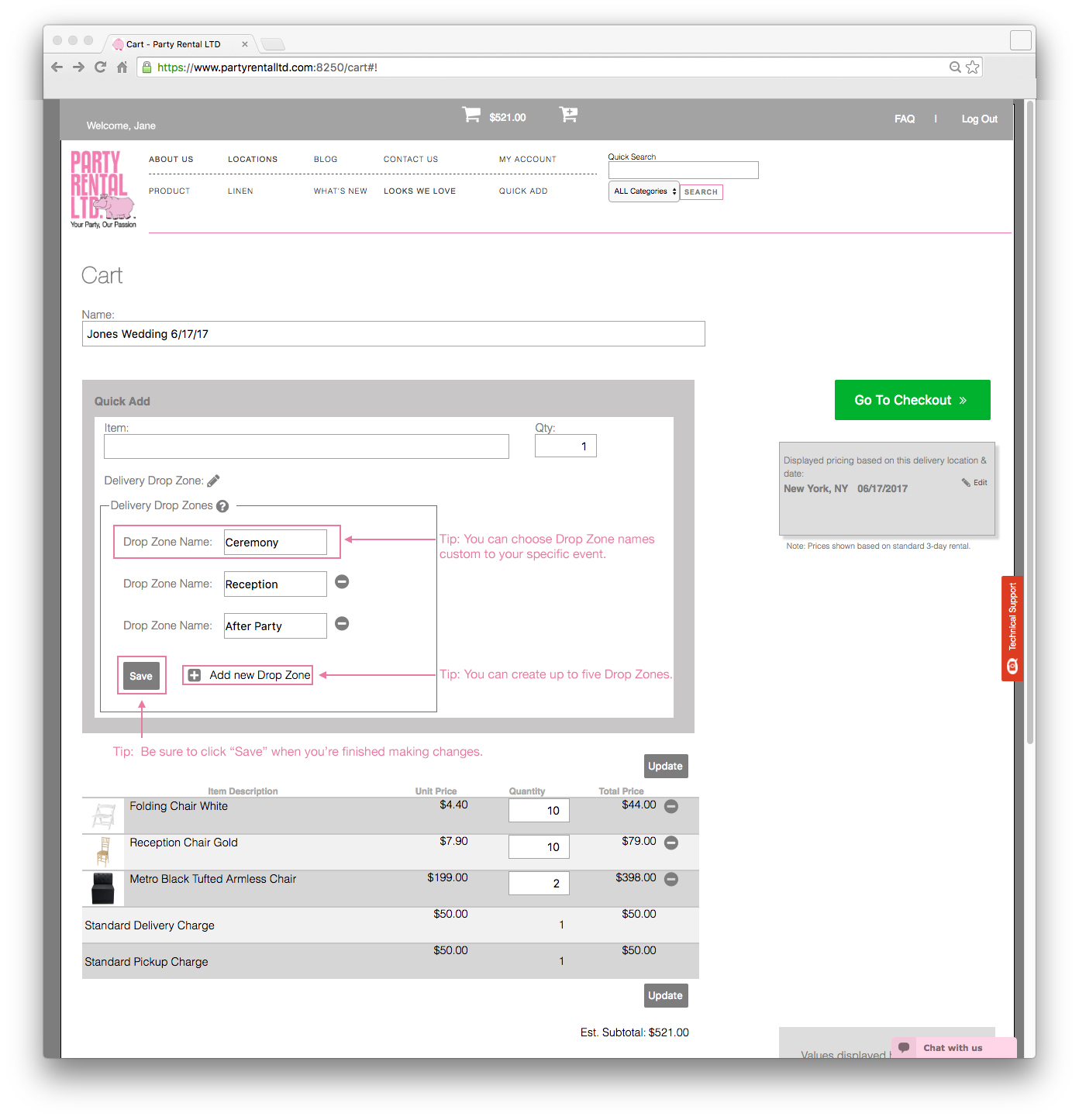 Once your Drop Zones are created, you can assign the Drop Zones to your items in two ways.  The first way is to assign a Drop Zone to an item as you enter it on the "Quick Add" page, just before you click "Add", using the drop-down menu below the textbox.  The second way is to  use the drop-down menu to the left of each individual line item in your list of items.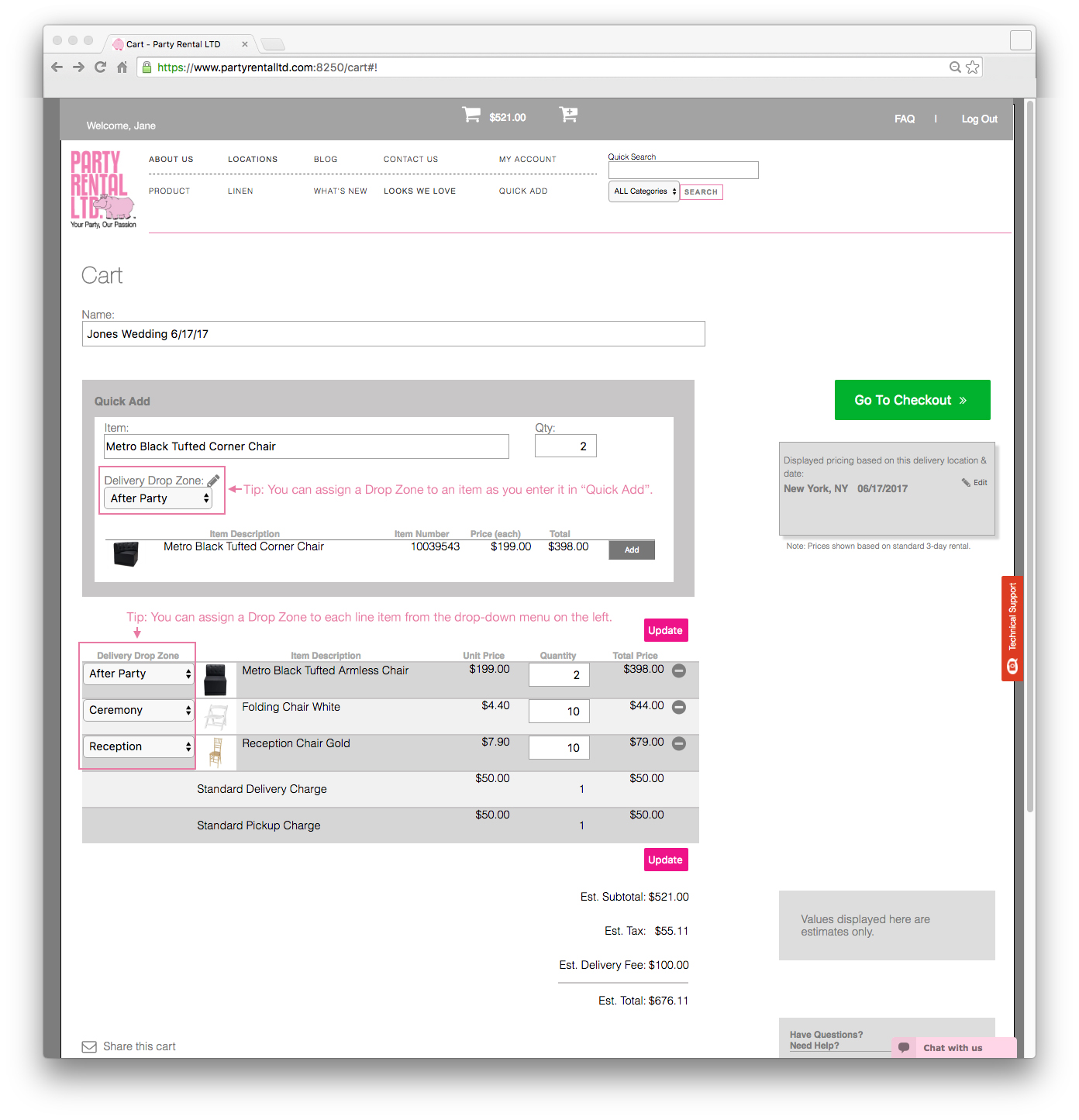 For maximum organization, you can even choose the order you'd like each Drop Zone to unload off the truck during delivery.  This is especially helpful if there are specific items you'll need right away, like paper floor covers, or items that should wait until the very end of the delivery, like a large quantity of chairs.  To do this, click "Yes" under "Delivery Sequence" during checkout, then specify your preferred order of delivery for your Drop Zones.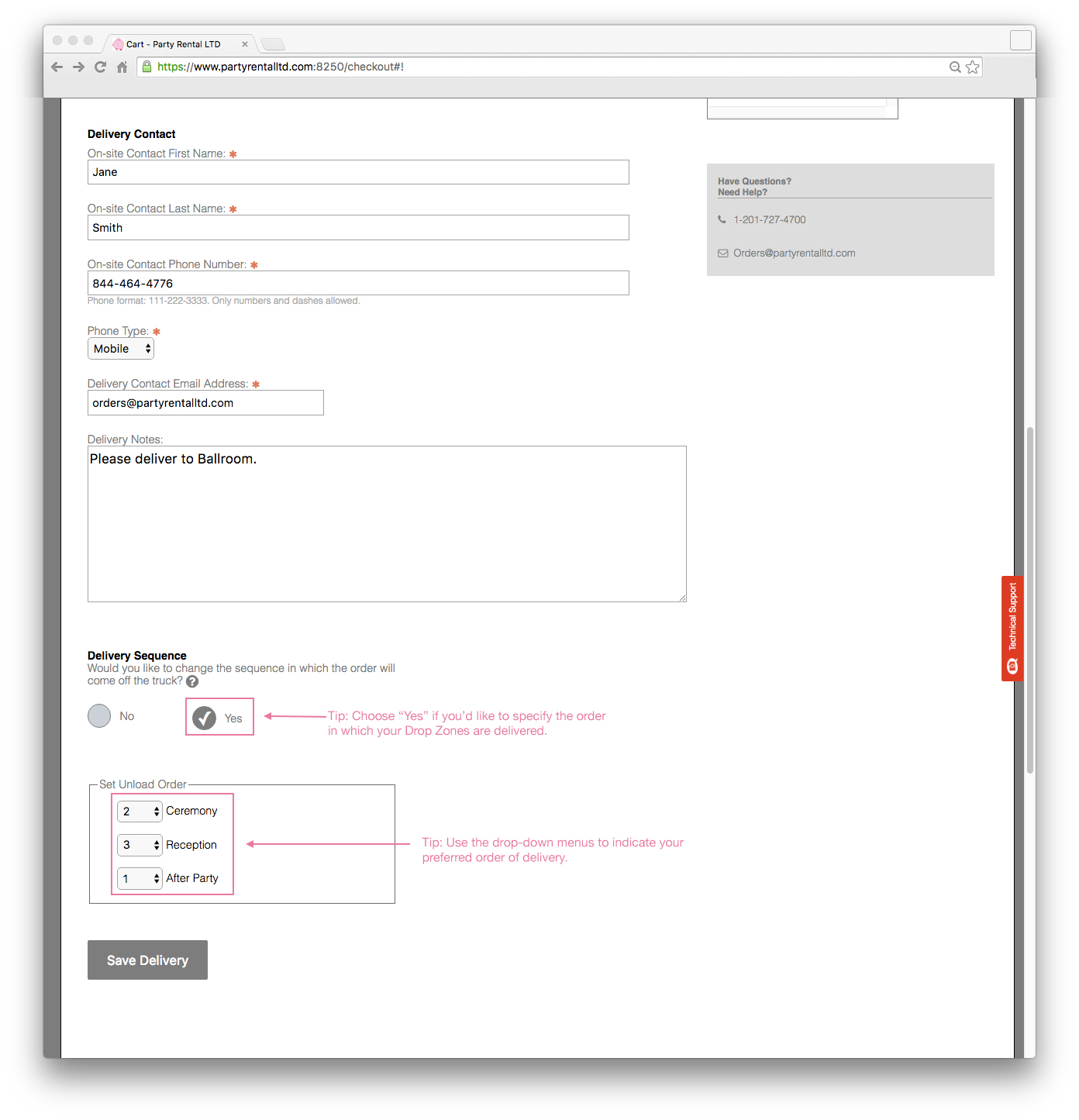 There are lots of new features in the works, so stay tuned for future updates!  Have an idea of how we can make our website better?  Let us know by providing feedback using the UserSnap feature right on our website — just look for the red bar labeled "Technical Support".